Professional worktop fitting & replacement by responsible handymen
So, you've done your research and bought everything your new or existing kitchen needs from trusty DIY retailers. But do you know how to fit the pieces together? No? Then it's time to call the pros at HandymanDXB to the rescue! The handymen can provide you with Proper Fitting of Kitchen Worktops :
The tools and materials needed to perform the service from start to finish;
Custom kitchen designs designed with your budget and aesthetic preferences in mind;
Additional services, such as cabinet doors refacing and assembly of hanging cupboards;
Price rates based on actual work done & full service coverage within Dubai;
Customizable workday, weekend, and bank holiday appointments;
Kitchen units designed, built and fitted by professionals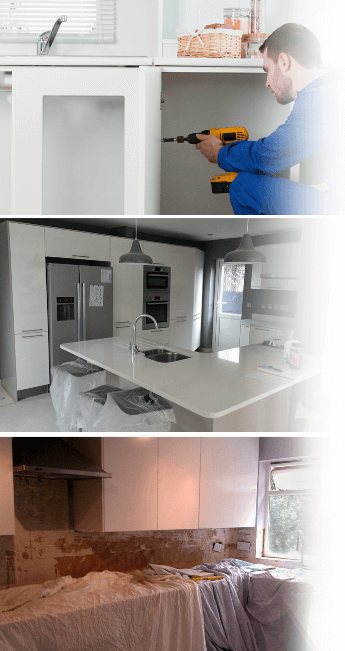 Proper worktop fitting done with the right tools
A busy kitchen is often riddled with knife cuts, burnt spots, and tomato sauce splatters that are likely to get in the way of your cooking experiments. The dexterous professionals know that and will bring the needed worktop clamps, sealants, and other supplies to make your new kitchen worktop installation happen. To ensure that your fitting workshops upgrade is just as appealing as it is practical, the pros will also pay extra attention to smoothen any rough edges with a special curved-edge workshop jig. When the specialists do their job and you enter your improved kitchen, reaching for that chef hat will be just a matter of time with our Proper Fitting of Kitchen Worktops!
Proper Fitting of Kitchen Worktops that values your time
Usually, the Proper Fitting of Kitchen Worktops will get the task done in about half a day. However, more extensive restoration procedures could push that timeframe up to a whole day. Do note that our replacement of worktops service is based on the time the pros spent on-site and is charged for the initial hours and then for every half an hour. This will save you extra budget funds, which you can invest in renovating your cupboards or replacing the worn out framework of your kitchen door. So, choose a day, usher the pros in and make your kitchen great again.
Hire competent experts to do the job of Proper Fitting of Kitchen Worktops
At HandymanDXB, each professional is a man of many talents for Proper Fitting of Kitchen Worktops. Having received special training and always wanting to perform at their best, these skilled specialists can do anything from installing kitchen worktops to fitting a new kitchen and do so in accordance with your instructions. The pros are punctual, wear neat uniforms, and are well mannered. So, whether you've hired them for replacing a kitchen worktop or for a completely different project, you can always be sure that our service will deliver the results you've wanted all along.
Need to join worktops together or a complete kitchen overhaul? Then use our client-friendly booking form to set-up your appointment with just a few casual clicks. Of course, you can always get in touch via your phone to contact our polite and helpful representatives and receive a free of charge quote for a replacement of kitchen worktops across the UAE. Note that our contact options are available 24/7 and you can arrange same-day bookings at any time. So, what are you waiting for – get your kitchen back on track today!
Abu Hail,
Al Awir First,
Al Awir Second,
Al Bada,
Al Baraha,
Al Barsha First,
Al Barsha Second,
Al Barsha South First,
Al Barsha South Second,
Al Barsha South Third,
Al Barsha Third,
Al Buteen,
Al Dhagaya,
Al Furjan,
Al Garhoud,
Al Guoz Fourth,
Al Hamriya, Dubai,
Al Hamriya Port,
Al Hudaiba,
Al Jaddaf,
Al Jafiliya,
Al Karama,
Al Khabisi,
Al Khwaneej First,
Al Khwaneej Second,
Al Kifaf,
Al Mamzar,
Al Manara,
Al Merkad,
Al Mina,
Al Mizhar First,
Al Mizhar Second,
Al Muraqqabat,
Al Murar,
Al Sabkha,
Al Muteena
Al Nahda First,
Al Nahda Second,
Al Quoz First,
Al Quoz Industrial First,
Al Quoz Industrial Fourth,
Al Quoz Industrial Second,
Al Quoz Industrial Third,
Al Quoz Second,
Al Quoz Third,
Al Qusais First,
Al Qusais Industrial Fifth,
Al Qusais Industrial First,
Al Qusais Industrial Fourth,
Al Qusais Industrial Second,
Al Qusais Industrial Third,
Al Qusais Second,
Al Qusais Third,
Al Raffa,
Al Ras,
Al Rashidiya,
Al Rigga,
Al Safa First,
Al Safa Second,
Al Safouh First,
Al Safouh Second,
Al Satwa,
Al Shindagha,
Al Souq Al Kabeer,
Al Twar First,
Al Twar Second,
Al Twar Third,
Al Warqa'a Fifth,
Al Warqa'a First,
Al Warqa'a Fourth,
Al Warqa'a Second,
Al Warqa'a Third,
Al Wasl,
Al Waheda,
Ayal Nasir,
Aleyas,
Bu Kadra,
Dubai Investment park First,
Dubai Investment Park Second,
Dubai Media City,
Dubai Internet City,
Emirates Hill First,
Emirates Hill Second,
Emirates Hill Third,
Hatta,
Hor Al Anz,
Hor Al Anz East,
Jebel Ali 1,
Jebel Ali 2,
Jebel Ali Industrial,
Jebel Ali Palm,
Jumeira First,
Palm Jumeirah,
Jumeirah Second,
Jumeirah Third,
Jumeirah 1,
Jumeirah 2,
Jumeirah 3,
Jumeirah Park,
Jumeirah Village circle,
Jumeirah Dirstricts,
Arabian Renches,
Motor City,
Silicon Osis,
Jumeirah Beach Residence,
Al Wasl,
Al Safa,
Umm Al Sheif,
Umm Suqiem,
Madinat Jumeirah,
Al Mankhool,
Marsa Dubai,
Meadows,
Mirdif,
Muhaisanah Fourth,
Muhaisanah Second,
Muhaisanah Third,
Muhaisnah First,
Al Mushrif,
Nad Al Hammar,
Nadd Al Shiba Fourth,
Nadd Al Shiba Second,
Nadd Al Shiba Third,
Nad Shamma,
Naif,
Al Muteena First,
Al Muteena Second,
Al Nasr, Dubai,
port Saeed,
Arabian Ranches,
Ras Al Khor,
Ras Al Khor Industrial First,
Ras Al Khor Industrial Second,
Ras Al Khor Industrial Third,
Rigga Al Buteen,
Springs,
Meadows,
Trade Centre 1,
Trade Centre 2,
Umm Al Sheif,
Umm Hurair First,
Umm Hurair Second,
Umm Ramool,
Umm Suqeim First,
Umm Suqeim Second,
Umm Suqeim Third,
Wadi Alamardi,
Warsan First,
Warsan Second,
Za'abeel First,
Za'abeel Second,
Knowledge Village,
Dubai Media City,
Dubai Internet City,
The Greens,
Discovery Gardens,
Green Community,
Jebel Ali Gardens,
Aykon city,
Tcom city,
Downtown Dubai,
Elite Residence,
Dubai Sports City,
Business Bay,
Falcon City,
Jumeirah Village Triangle,
Sheikh Zaid Road,
Polo Homes,
Studio City,
The Garden Dubai,
Dubai Marina,
Mudon villa,
Flamingo Villa,
The Lakes,
Jumeirah Hights,
Jumeirah Islands,
Dubai production city,
Jumeirah Golf Estate,
Mudon,
The Sustainable city,
Layan,
Al Waha,
Dubai lifestyle city,