Professional cat flaps fitting for all types of windows and front doors
It is a well-known fact that cats are among, if not the most, curious animals out there. And once your fluffball is done with exploring every single nook and cranny of your home, it will only be a matter of time before he decides to venture outside. With a bit of help from the skilled specialists at  Handyman, your beloved pet will be able to enjoy the outdoors at any hour of the day or night! The experts will readily fit your comfortable cat flap installation on any type of door or window in a safe and responsible manner.
There are many kitty door types to choose from
Have doubts that your brand new electronic cat flap won't fit in your doorway? If you have double-glazed glass units, the experts will have no other choice but to replace the whole thing. However, if you own the more common uPVC, wooden, metal, or glass doors, the cat flap fitters will use precise tools to neatly cut a hole with the dimensions of your new cat flap. For more information about the various flap types, make sure to get in touch with our friendly customer advisers at a day and time of your preference.
Learn all things cat flaps with this Q & A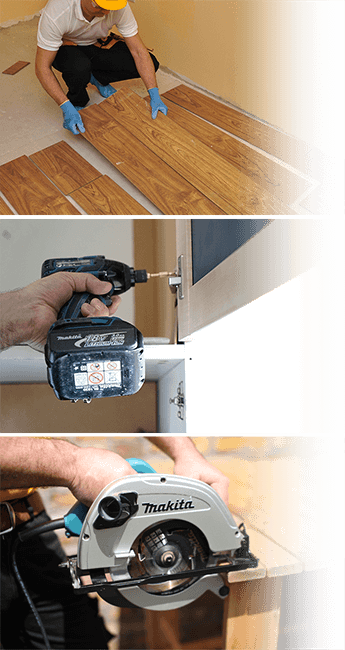 Q: Will you be able to outfit my current glass unit with a cat flap in Cat flap Installation?
A: Unfortunately, cat flaps were never designed to fit into such units and the team will be unable to outfit those in your current glass door. However, trusty specialists can gladly replace your glass unit with one that will easily accommodate all types of kitty doors on the market.
Q: Can you outfit my raised uPVC panel with a Cat flap Installation?
A: Absolutely! And instead of selling you a new panel like most companies would, the experienced pro will install your Sureflap or Staywell cat flap directly into your currently existing panel. Of course, the specialist will take the correct measurements first to ensure that your electronic pet door fits your door just right.
Q: What about metal-skinned composite doors? Can you install a Cat flap?
A: Each cat flap fitter at  Handyman has worked on many cat flap projects in the past and is committed to providing a quality service. Thus, your pro will have no trouble fitting your feline friend's high-tech flap into your metal-skinned composite door.
Q: Why should I opt for  Handyman Cat flap Installation?
A: A quick search online will reveal that many of our clients left positive feedback for our services. This is because the experts love their job and you can always count on them to provide your pet with a convenient doorway to your fascinating yard. Whether you need to install regular window cat flaps and cat flaps in walls or high-tech microchip and magnetic cat doors, the polite pros will fit any type with attention to detail.
Abu Hail,
Al Awir First,
Al Awir Second,
Al Bada,
Al Baraha,
Al Barsha First,
Al Barsha Second,
Al Barsha South First,
Al Barsha South Second,
Al Barsha South Third,
Al Barsha Third,
Al Buteen,
Al Dhagaya,
Al Furjan,
Al Garhoud,
Al Guoz Fourth,
Al Hamriya, Dubai,
Al Hamriya Port,
Al Hudaiba,
Al Jaddaf,
Al Jafiliya,
Al Karama,
Al Khabisi,
Al Khwaneej First,
Al Khwaneej Second,
Al Kifaf,
Al Mamzar,
Al Manara,
Al Merkad,
Al Mina,
Al Mizhar First,
Al Mizhar Second,
Al Muraqqabat,
Al Murar,
Al Sabkha,
Al Muteena
Al Nahda First,
Al Nahda Second,
Al Quoz First,
Al Quoz Industrial First,
Al Quoz Industrial Fourth,
Al Quoz Industrial Second,
Al Quoz Industrial Third,
Al Quoz Second,
Al Quoz Third,
Al Qusais First,
Al Qusais Industrial Fifth,
Al Qusais Industrial First,
Al Qusais Industrial Fourth,
Al Qusais Industrial Second,
Al Qusais Industrial Third,
Al Qusais Second,
Al Qusais Third,
Al Raffa,
Al Ras,
Al Rashidiya,
Al Rigga,
Al Safa First,
Al Safa Second,
Al Safouh First,
Al Safouh Second,
Al Satwa,
Al Shindagha,
Al Souq Al Kabeer,
Al Twar First,
Al Twar Second,
Al Twar Third,
Al Warqa'a Fifth,
Al Warqa'a First,
Al Warqa'a Fourth,
Al Warqa'a Second,
Al Warqa'a Third,
Al Wasl,
Al Waheda,
Ayal Nasir,
Aleyas,
Bu Kadra,
Dubai Investment park First,
Dubai Investment Park Second,
Dubai Media City,
Dubai Internet City,
Emirates Hill First,
Emirates Hill Second,
Emirates Hill Third,
Hatta,
Hor Al Anz,
Hor Al Anz East,
Jebel Ali 1,
Jebel Ali 2,
Jebel Ali Industrial,
Jebel Ali Palm,
Jumeira First,
Palm Jumeirah,
Jumeirah Second,
Jumeirah Third,
Jumeirah 1,
Jumeirah 2,
Jumeirah 3,
Jumeirah Park,
Jumeirah Village Circle,
Jumeirah Districts,
Arabian Renches,
Motor City,
Silicon Osis,
Jumeirah Beach Residence,
Al Wasl,
Al Safa,
Umm Al Sheif,
Umm Suqiem,
Madinat Jumeirah,
Al Mankhool,
Marsa Dubai,
Meadows,
Mirdif,
Muhaisanah Fourth,
Muhaisanah Second,
Muhaisanah Third,
Muhaisnah First,
Al Mushrif,
Nad Al Hammar,
Nadd Al Shiba Fourth,
Nadd Al Shiba Second,
Nadd Al Shiba Third,
Nad Shamma,
Naif,
Al Muteena First,
Al Muteena Second,
Al Nasr, Dubai,
port Saeed,
Arabian Ranches,
Ras Al Khor,
Ras Al Khor Industrial First,
Ras Al Khor Industrial Second,
Ras Al Khor Industrial Third,
Rigga Al Buteen,
Springs,
Meadows,
Trade Centre 1,
Trade Centre 2,
Umm Al Sheif,
Umm Hurair First,
Umm Hurair Second,
Umm Ramool,
Umm Suqeim First,
Umm Suqeim Second,
Umm Suqeim Third,
Wadi Alamardi,
Warsan First,
Warsan Second,
Za'abeel First,
Za'abeel Second,
Knowledge Village,
Dubai Media City,
Dubai Internet City,
The Greens,
Discovery Gardens,
Green Community,
Jebel Ali Gardens,
Aykon City,
Tcom city,
Downtown Dubai,
Elite Residence,
Dubai Sports City,
Business Bay,
Falcon City,
Jumeirah Village Triangle,
Sheikh Zaid Road,
Polo Homes,
Studio City,
The Garden Dubai,
Dubai Marina,
Mudon villa,
Flamingo Villa,
The Lakes,
Jumeirah Heights,
Jumeirah Islands,
Dubai production city,
Jumeirah Golf Estate,
Mudon,
The Sustainable city,
Layan,
Al Waha,
Dubai lifestyle city,