DO YOU HAVE A NEW HOME APPLIANCE THAT YOU WANT TO START USING RIGHT AWAY? THEN LET'S INSTALL IT!
From TV mounting and Picture Hanging to Bath and Shower Screen Fitting – we can provide Installation Services Dubai  all for you, efficiently and tidily.  HandymanDXB has all the right tools and skills to install whatever you need for only on one visit.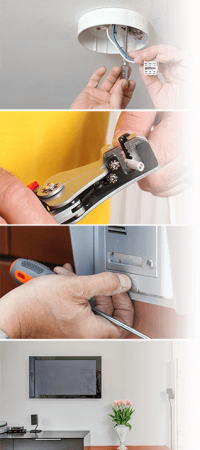 All equipment and tools provided for Installation Services Dubai
Each HandymanDXB brings everything necessary to complete a job. Our equipment includes a range of manual and power tools like drills, adjustable wrenches, circular/zigzag saws, tile cutters, screwdrivers, and all kinds of tall ladders (2-3-4 meters). And we can fit things together even if bits and pieces are missing from them such as plumbing connections, small parts, screws, nails, nuts, and bolts.
All materials and parts can be supplied
Save yourself the time and hassle looking for materials, we can provide them for you! (Extra charges apply for supply and delivery of additional materials.) Please contact us and let us know in advance what materials and parts you want to be supplied with for Installation Services Dubai.
Guaranteed work from insured professionals
Even the most complicated electrical job can be handled by HandymanDXB. An NICEIC-certified electrician will take care of any rewiring, electrical installation or fault finding tasks/projects.
Fair pricing based on time spent on labour
Installation Services Dubai charge only for the actual time it takes for the handyman to finish a job. The minimum time for an appointment is 1 hour. After it, every additional half an hour is charged. These charges are for labour only and do not include extra materials or additional expenses such as congestion and parking charges (unless a parking permit for the duration of the visit is provided). All extra charges will be discussed with you and listed in the final quote.
No matter what the job is, your handyman will finish it diligently and make sure that you are satisfied with the results. All technicians are dedicated to their work and eager to bring you utmost satisfaction when you are need of professional help. No job is too small or too big.
Instant ways to contact us & quick response time
Arrange your appointment with a few clicks via our online booking form. Also, you can just give us a call or chat with an operator. Our friendly customer care staff can provide you with additional information and offer you a quote.
Abu Hail,
Al Awir First,
Al Awir Second,
Al Bada,
Al Baraha,
Al Barsha First,
Al Barsha Second,
Al Barsha South First,
Al Barsha South Second,
Al Barsha South Third,
Al Barsha Third,
Al Buteen,
Al Dhagaya,
Al Furjan,
Al Garhoud,
Al Guoz Fourth,
Al Hamriya, Dubai,
Al Hamriya Port,
Al Hudaiba,
Al Jaddaf,
Al Jafiliya,
Al Karama,
Al Khabisi,
Al Khwaneej First,
Al Khwaneej Second,
Al Kifaf,
Al Mamzar,
Al Manara,
Al Merkad,
Al Mina,
Al Mizhar First,
Al Mizhar Second,
Al Muraqqabat,
Al Murar,
Al Sabkha,
Al Muteena
Al Nahda First,
Al Nahda Second,
Al Quoz First,
Al Quoz Industrial First,
Al Quoz Industrial Fourth,
Al Quoz Industrial Second,
Al Quoz Industrial Third,
Al Quoz Second,
Al Quoz Third,
Al Qusais First,
Al Qusais Industrial Fifth,
Al Qusais Industrial First,
Al Qusais Industrial Fourth,
Al Qusais Industrial Second,
Al Qusais Industrial Third,
Al Qusais Second,
Al Qusais Third,
Al Raffa,
Al Ras,
Al Rashidiya,
Al Rigga,
Al Safa First,
Al Safa Second,
Al Safouh First,
Al Safouh Second,
Al Satwa,
Al Shindagha,
Al Souq Al Kabeer,
Al Twar First,
Al Twar Second,
Al Twar Third,
Al Warqa'a Fifth,
Al Warqa'a First,
Al Warqa'a Fourth,
Al Warqa'a Second,
Al Warqa'a Third,
Al Wasl,
Al Waheda,
Ayal Nasir,
Aleyas,
Bu Kadra,
Dubai Investment park First,
Dubai Investment Park Second,
Dubai Media City,
Dubai Internet City,
Emirates Hill First,
Emirates Hill Second,
Emirates Hill Third,
Hatta,
Hor Al Anz,
Hor Al Anz East,
Jebel Ali 1,
Jebel Ali 2,
Jebel Ali Industrial,
Jebel Ali Palm,
Jumeira First,
Palm Jumeirah,
Jumeirah Second,
Jumeirah Third,
Jumeirah 1,
Jumeirah 2,
Jumeirah 3,
Jumeirah Park,
Jumeirah Village circle,
Jumeirah Dirstricts,
Arabian Renches,
Motor City,
Silicon Osis,
Jumeirah Beach Residence,
Al Wasl,
Al Safa,
Umm Al Sheif,
Umm Suqiem,
Madinat Jumeirah,
Al Mankhool,
Marsa Dubai,
Meadows,
Mirdif,
Muhaisanah Fourth,
Muhaisanah Second,
Muhaisanah Third,
Muhaisnah First,
Al Mushrif,
Nad Al Hammar,
Nadd Al Shiba Fourth,
Nadd Al Shiba Second,
Nadd Al Shiba Third,
Nad Shamma,
Naif,
Al Muteena First,
Al Muteena Second,
Al Nasr, Dubai,
port Saeed,
Arabian Ranches,
Ras Al Khor,
Ras Al Khor Industrial First,
Ras Al Khor Industrial Second,
Ras Al Khor Industrial Third,
Rigga Al Buteen,
Springs,
Meadows,
Trade Centre 1,
Trade Centre 2,
Umm Al Sheif,
Umm Hurair First,
Umm Hurair Second,
Umm Ramool,
Umm Suqeim First,
Umm Suqeim Second,
Umm Suqeim Third,
Wadi Alamardi,
Warsan First,
Warsan Second,
Za'abeel First,
Za'abeel Second,
Knowledge Village,
Dubai Media City,
Dubai Internet City,
The Greens,
Discovery Gardens,
Green Community,
Jebel Ali Gardens,
Aykon city,
Tcom city,
Downtown Dubai,
Elite Residence,
Dubai Sports City,
Business Bay,
Falcon City,
Jumeirah Village Triangle,
Sheikh Zaid Road,
Polo Homes,
Studio City,
The Garden Dubai,
Dubai Marina,
Mudon villa,
Flamingo Villa,
The Lakes,
Jumeirah Hights,
Jumeirah Islands,
Dubai production city,
Jumeirah Golf Estate,
Mudon,
The Sustainable city,
Layan,
Al Waha,
Dubai lifestyle city,