Hang your artwork at just the right spot
If hung incorrectly, even the most avant-garde picture or mirror runs the risk of remaining unnoticed by y
our guests. The Handyman will help you present your artwork in the best possible light by using the right hardware to securely mount it on any type of wall. Art Hanging Dubai becomes much easier with a pair of professional hands. Regardless of the shape and size of your picture frame or mirror, the polite, fast, and skilled technicians will carry a wide assortment of tools and materials to hang your artwork in a safe manner. With this service you get:
A time-saving and cost-efficient service;
All tools and equipment are provided by the pros;
Extra materials can be purchased and delivered to your place;
Pricing based on the time your service took;
Stop by our FAQ section to find out the answers you need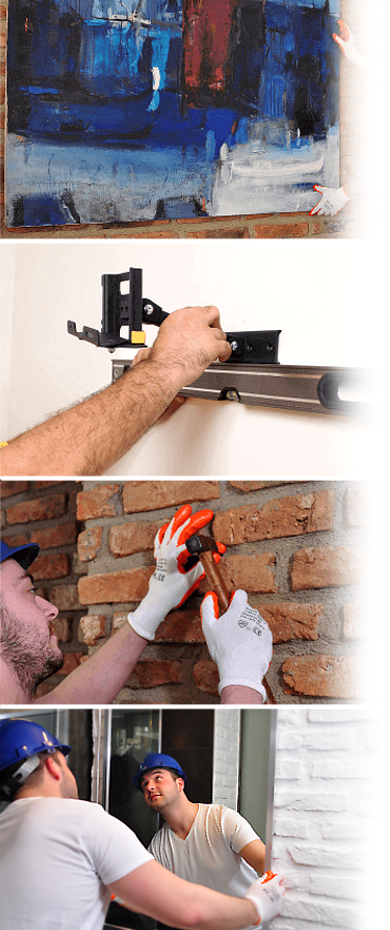 Q: What does the service include Art Hanging Dubai?
A: Well, here are a few examples:
Art Hanging Dubai and picture frames at a height that matches your eye level;
Mounting heavy paintings in places where they complement the décor and lighting of your home;
Every piece of your decorative wall art will be positioned with great care and attention to detail;
Positioning advice from picture hanging experts that you can use to make the most of your mirrors and pictures.
Q: Can you mount weighty pictures and mirrors?
A: Absolutely! However, if the item is really heavy then it would be best to warn us in advance. We will send a second handyman to help out.
Q: What if my mirror or picture doesn't arrive with stock brackets or other hardware that I can attach to my wall?
A: Usually, brand new pictures and mirrors include a set of hangers or hanging wires that are specifically designed to withstand the weight of the said item. Should that not be the case, just inform us and we'll supply everything for you. We'll choose and install proper hardware that will easily bear the weight of your bathroom or kitchen wall decor. We will then add this and any other professional picture hanging expenses to your final billing.
Q: Do I have to provide tools or instruments for Art Hanging Dubai?
A: No, your fantastic tradesman will bring everything necessary from the wide range of minor and general fix-ups, renovations, home maintenance, repairs and other handyman services and odd jobs..
Q: Are my walls suitable for my chosen decoration?
Homes that feature brick, plaster, or concrete walls can be adorned with any kind of artwork you fancy. On the other hand, Art Hanging Dubai heavy picture frames or mirrors on plasterboard, plaster, lathe, and other similar wall types is a tricky business that may result in property damage. If your room is outfitted with a picture rail molding or hanging rails, then the weight will no longer be an issue – we can use these instead to mount your decorations with rail hooks and wires.
Q: Can you mount my TV on the wall as well?
Certainly! Just notify us prior to your booking so the handyman can be aware and bring the tools required for fitting a TV on the wall.
Q: How much time does a job take for Art Hanging Dubai?
A: Placement of a small mirror or picture (25cm x 25cm) takes about 5 minutes;
Placement of a medium mirror or picture (up to 1m x 1m) takes about 15 minutes;
Placement of a big mirror or picture (more than 1m x 1m) takes about 20 to 30 minutes.
If your mirror or picture weighs more than expected, please let us know. We can always send two professionals to get the job done.
Q: What regions do you cover?
A: We deliver our art hanging services in all areas within Dubai.
Q: What other typical jobs you need?
A: The fantastic tradesmen often handle curtains fitting to windows, picture hanging service general and minor plaster repair, secure mounting shelves installation and other odd job man services.
Abu Hail,
Al Awir First,
Al Awir Second,
Al Bada,
Al Baraha,
Al Barsha First,
Al Barsha Second,
Al Barsha South First,
Al Barsha South Second,
Al Barsha South Third,
Al Barsha Third,
Al Buteen,
Al Dhagaya,
Al Furjan,
Al Garhoud,
Al Guoz Fourth,
Al Hamriya, Dubai,
Al Hamriya Port,
Al Hudaiba,
Al Jaddaf,
Al Jafiliya,
Al Karama,
Al Khabisi,
Al Khwaneej First,
Al Khwaneej Second,
Al Kifaf,
Al Mamzar,
Al Manara,
Al Merkad,
Al Mina,
Al Mizhar First,
Al Mizhar Second,
Al Muraqqabat,
Al Murar,
Al Sabkha,
Al Muteena
Al Nahda First,
Al Nahda Second,
Al Quoz First,
Al Quoz Industrial First,
Al Quoz Industrial Fourth,
Al Quoz Industrial Second,
Al Quoz Industrial Third,
Al Quoz Second,
Al Quoz Third,
Al Qusais First,
Al Qusais Industrial Fifth,
Al Qusais Industrial First,
Al Qusais Industrial Fourth,
Al Qusais Industrial Second,
Al Qusais Industrial Third,
Al Qusais Second,
Al Qusais Third,
Al Raffa,
Al Ras,
Al Rashidiya,
Al Rigga,
Al Safa First,
Al Safa Second,
Al Safouh First,
Al Safouh Second,
Al Satwa,
Al Shindagha,
Al Souq Al Kabeer,
Al Twar First,
Al Twar Second,
Al Twar Third,
Al Warqa'a Fifth,
Al Warqa'a First,
Al Warqa'a Fourth,
Al Warqa'a Second,
Al Warqa'a Third,
Al Wasl,
Al Waheda,
Ayal Nasir,
Aleyas,
Bu Kadra,
Dubai Investment park First,
Dubai Investment Park Second,
Dubai Media City,
Dubai Internet City,
Emirates Hill First,
Emirates Hill Second,
Emirates Hill Third,
Hatta,
Hor Al Anz,
Hor Al Anz East,
Jebel Ali 1,
Jebel Ali 2,
Jebel Ali Industrial,
Jebel Ali Palm,
Jumeira First,
Palm Jumeirah,
Jumeirah Second,
Jumeirah Third,
Jumeirah 1,
Jumeirah 2,
Jumeirah 3,
Jumeirah Park,
Jumeirah Village circle,
Jumeirah Dirstricts,
Arabian Renches,
Motor City,
Silicon Osis,
Jumeirah Beach Residence,
Al Wasl,
Al Safa,
Umm Al Sheif,
Umm Suqiem,
Madinat Jumeirah,
Al Mankhool,
Marsa Dubai,
Meadows,
Mirdif,
Muhaisanah Fourth,
Muhaisanah Second,
Muhaisanah Third,
Muhaisnah First,
Al Mushrif,
Nad Al Hammar,
Nadd Al Shiba Fourth,
Nadd Al Shiba Second,
Nadd Al Shiba Third,
Nad Shamma,
Naif,
Al Muteena First,
Al Muteena Second,
Al Nasr, Dubai,
port Saeed,
Arabian Ranches,
Ras Al Khor,
Ras Al Khor Industrial First,
Ras Al Khor Industrial Second,
Ras Al Khor Industrial Third,
Rigga Al Buteen,
Springs,
Meadows,
Trade Centre 1,
Trade Centre 2,
Umm Al Sheif,
Umm Hurair First,
Umm Hurair Second,
Umm Ramool,
Umm Suqeim First,
Umm Suqeim Second,
Umm Suqeim Third,
Wadi Alamardi,
Warsan First,
Warsan Second,
Za'abeel First,
Za'abeel Second,
Knowledge Village,
Dubai Media City,
Dubai Internet City,
The Greens,
Discovery Gardens,
Green Community,
Jebel Ali Gardens,
Aykon city,
Tcom city,
Downtown Dubai,
Elite Residence,
Dubai Sports City,
Business Bay,
Falcon City,
Jumeirah Village Triangle,
Sheikh Zaid Road,
Polo Homes,
Studio City,
The Garden Dubai,
Dubai Marina,
Mudon villa,
Flamingo Villa,
The Lakes,
Jumeirah Hights,
Jumeirah Islands,
Dubai production city,
Jumeirah Golf Estate,
Mudon,
The Sustainable city,
Layan,
Al Waha,
Dubai lifestyle city,