From light fixture installation to full property rewiring - we have the right electrician in Dubai to handle every electrical job
The specialist we'll send to you is a fully equipped electrical technician which means a highly qualified electrician will help you with even the most complicated Electrical Services and repairs. You can be 100% certain that the pro will figure out what went wrong and how to fix it
Your HandymanDXB can help you with: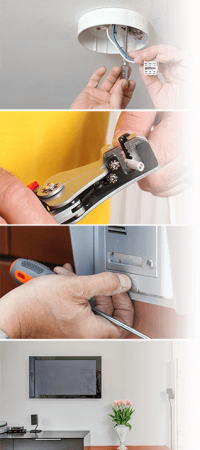 Qualified and certified electricians for a job well done
HandymanDXB works with a  electricians, qualified for each and all types of domestic electrical services. From socket installation to complete or partial rewiring, the handyman Services in Dubai will have it fixed. Each electrical technician carries public liability insurance for a minimum of 5 million and thus guarantees you a trouble-free handyman service.
Transformers, cables, sockets… we can fix it for you!
Rest assured that your electrician can do everything required for a Electrical Services right. Eventually, he will be able to figure out where the fault lies and fix the problem for you. Any extra costs will be added to your detailed bill after all handyman services are fully complete so you will know exactly what was done as part of your Electrical Services.
Payment as per time spent on project
We charge only for the actual time it takes for the electrician to carry out a job. The minimum time for an appointment is 1 hour. Every additional half an hour is charged. These charges are for handyman labour only and do not include extra materials or additional expenses such as congestion and parking charges (unless a parking permit for the duration of the visit is provided).
The right handyman tools for the most challenging of tasks
The electricians bring all tools necessary for each job. The handyman equipment includes a range of manual and power tools as well as various tall ladders (2-3-4 meters), in order for an electrical technician to deal with problems at the most out of reach places. This way the specialists can perform electrical test inspections, diagnostics and fault-finding on the electrical system of any property.
Friendly attitude + professional advice
Your Dubai electrician will make sure to not cause any disturbance while maintenance and repairs are being done. He will leave his work area clean and tidy. Your HandymanDXB will be more than happy to answer any questions you might have, along with friendly advice on how to keep the electrics at your home working properly.
Simple online booking and quick contact options
You can easily book your electrician by filling the online booking form and hire your handy man in 30 seconds. The app allows you to find, combine and book other handyman services for your home. You can also contact us for any and all your questions via phone or chat.
Abu Hail,
Al Awir First,
Al Awir Second,
Al Bada,
Al Baraha,
Al Barsha First,
Al Barsha Second,
Al Barsha South First,
Al Barsha South Second,
Al Barsha South Third,
Al Barsha Third,
Al Buteen,
Al Dhagaya,
Al Furjan,
Al Garhoud,
Al Guoz Fourth,
Al Hamriya, Dubai,
Al Hamriya Port,
Al Hudaiba,
Al Jaddaf,
Al Jafiliya,
Al Karama,
Al Khabisi,
Al Khwaneej First,
Al Khwaneej Second,
Al Kifaf,
Al Mamzar,
Al Manara,
Al Merkad,
Al Mina,
Al Mizhar First,
Al Mizhar Second,
Al Muraqqabat,
Al Murar,
Al Sabkha,
Al Muteena
Al Nahda First,
Al Nahda Second,
Al Quoz First,
Al Quoz Industrial First,
Al Quoz Industrial Fourth,
Al Quoz Industrial Second,
Al Quoz Industrial Third,
Al Quoz Second,
Al Quoz Third,
Al Qusais First,
Al Qusais Industrial Fifth,
Al Qusais Industrial First,
Al Qusais Industrial Fourth,
Al Qusais Industrial Second,
Al Qusais Industrial Third,
Al Qusais Second,
Al Qusais Third,
Al Raffa,
Al Ras,
Al Rashidiya,
Al Rigga,
Al Safa First,
Al Safa Second,
Al Safouh First,
Al Safouh Second,
Al Satwa,
Al Shindagha,
Al Souq Al Kabeer,
Al Twar First,
Al Twar Second,
Al Twar Third,
Al Warqa'a Fifth,
Al Warqa'a First,
Al Warqa'a Fourth,
Al Warqa'a Second,
Al Warqa'a Third,
Al Wasl,
Al Waheda,
Ayal Nasir,
Aleyas,
Bu Kadra,
Dubai Investment park First,
Dubai Investment Park Second,
Dubai Media City,
Dubai Internet City,
Emirates Hill First,
Emirates Hill Second,
Emirates Hill Third,
Hatta,
Hor Al Anz,
Hor Al Anz East,
Jebel Ali 1,
Jebel Ali 2,
Jebel Ali Industrial,
Jebel Ali Palm,
Jumeira First,
Palm Jumeirah,
Jumeirah Second,
Jumeirah Third,
Jumeirah 1,
Jumeirah 2,
Jumeirah 3,
Jumeirah Park,
Jumeirah Village circle,
Jumeirah Dirstricts,
Arabian Renches,
Motor City,
Silicon Osis,
Jumeirah Beach Residence,
Al Wasl,
Al Safa,
Umm Al Sheif,
Umm Suqiem,
Madinat Jumeirah,
Al Mankhool,
Marsa Dubai,
Meadows,
Mirdif,
Muhaisanah Fourth,
Muhaisanah Second,
Muhaisanah Third,
Muhaisnah First,
Al Mushrif,
Nad Al Hammar,
Nadd Al Shiba Fourth,
Nadd Al Shiba Second,
Nadd Al Shiba Third,
Nad Shamma,
Naif,
Al Muteena First,
Al Muteena Second,
Al Nasr, Dubai,
port Saeed,
Arabian Ranches,
Ras Al Khor,
Ras Al Khor Industrial First,
Ras Al Khor Industrial Second,
Ras Al Khor Industrial Third,
Rigga Al Buteen,
Springs,
Meadows,
Trade Centre 1,
Trade Centre 2,
Umm Al Sheif,
Umm Hurair First,
Umm Hurair Second,
Umm Ramool,
Umm Suqeim First,
Umm Suqeim Second,
Umm Suqeim Third,
Wadi Alamardi,
Warsan First,
Warsan Second,
Za'abeel First,
Za'abeel Second,
Knowledge Village,
Dubai Media City,
Dubai Internet City,
The Greens,
Discovery Gardens,
Green Community,
Jebel Ali Gardens,
Aykon city,
Tcom city,
Downtown Dubai,
Elite Residence,
Dubai Sports City,
Business Bay,
Falcon City,
Jumeirah Village Triangle,
Sheikh Zaid Road,
Polo Homes,
Studio City,
The Garden Dubai,
Dubai Marina,
Mudon villa,
Flamingo Villa,
The Lakes,
Jumeirah Hights,
Jumeirah Islands,
Dubai production city,
Jumeirah Golf Estate,
Mudon,
The Sustainable city,
Layan,
Al Waha,
Dubai lifestyle city,