Why let a skilled technician handle all your electrical installation work?
All home Electrical Installation in Dubai serve one great purpose – to bring us the wonder that is electricity. In other words, no newly bought home can get away without having one. However, if you cannot tell a wire from a shoelace, you don't have to put yourself or those around you at unnecessary risk. Instead, contact  Handyman  as soon as possible and we will send over a certified electrician who will do the job for you while staying true to all legal requirements for electrical installations.
The knowledgeable and skilled handymen can perform all sorts of basic electrical installation work
to get your house or office in touch with the 21st century. For example, the experts can:
Safely connect newly built properties, garages, or property extensions to the local power grid;
Perform partial or complete rewiring in accordance with the electrical wiring regulations;
Install additional sockets, television and telephone points in a room of your preference;
Connect top of the line burglar alarms, security cameras, and lighting systems;
Upgrade your fuse board to meet all current electrical standards in the Dubai;
Install a reliable power and lighting system or contemporary electric showers and heating.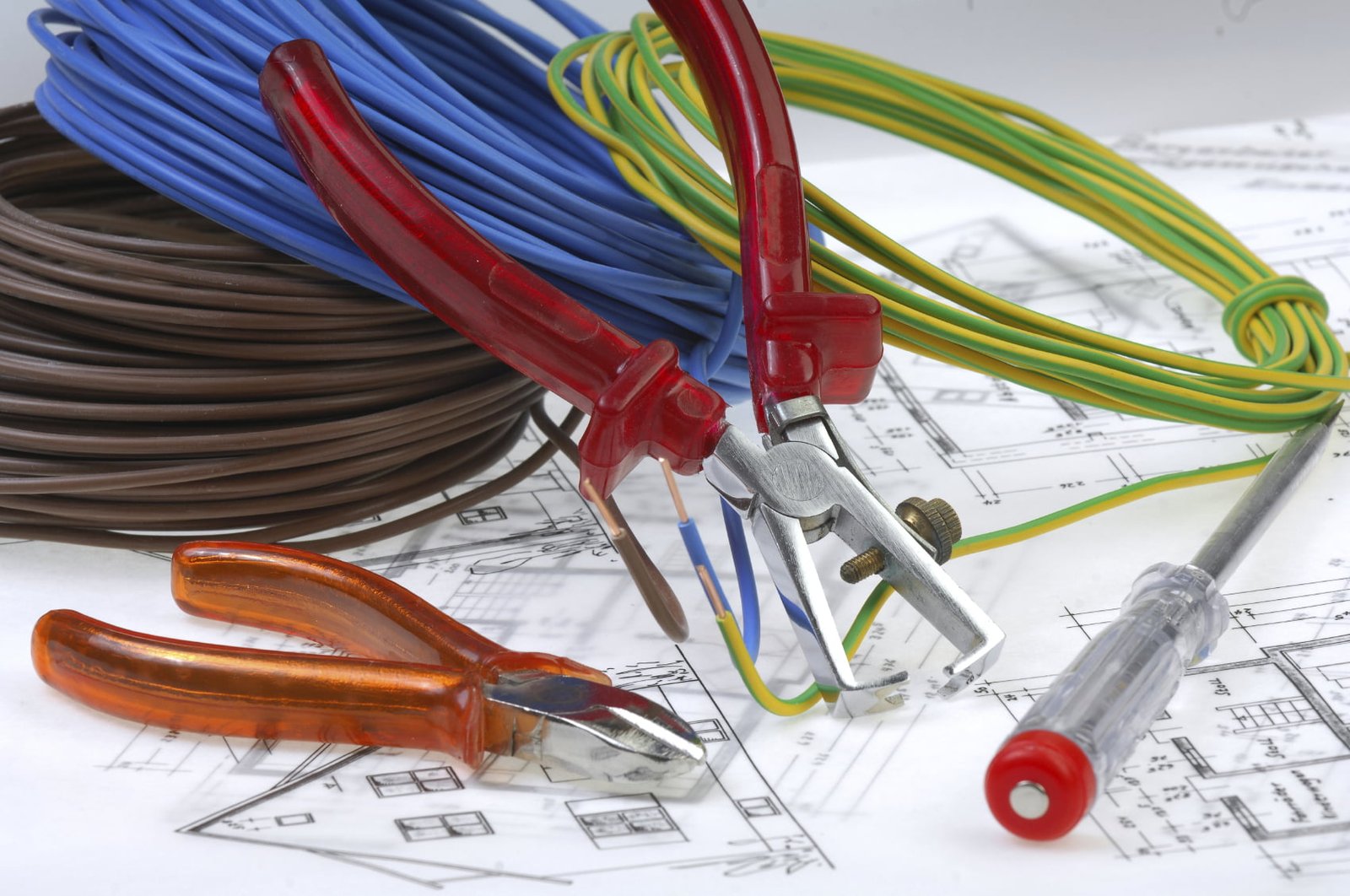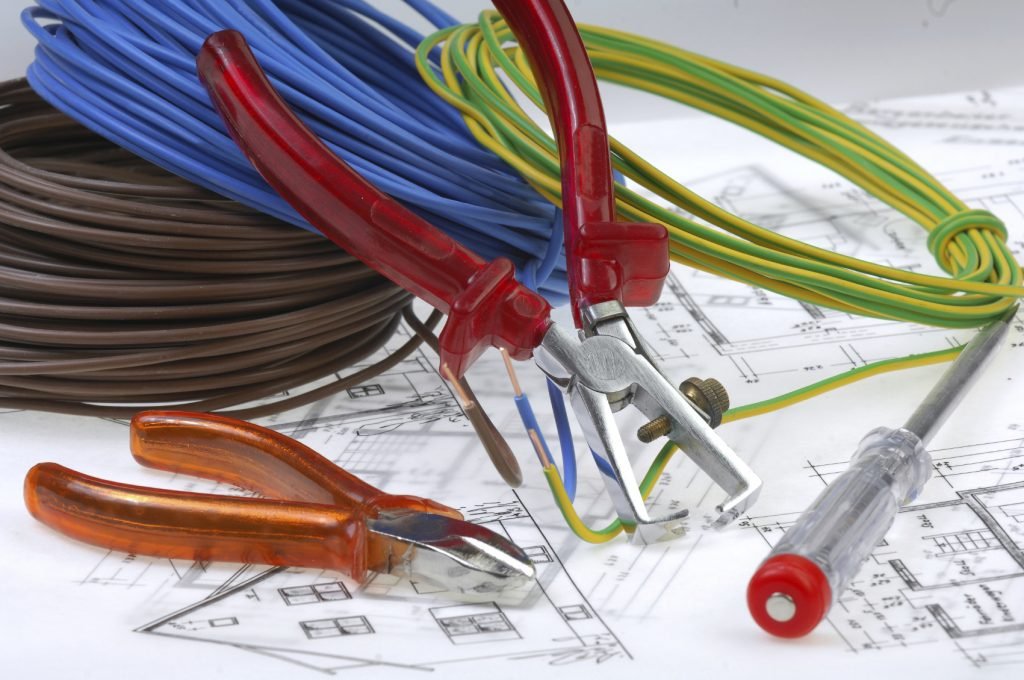 Let Handyman take care of everything
Entrust your electrifying tasks to experienced technicians
Why grab a pair of wire cutters and hope for the best when licensed help is just around the corner? Each Dubai specialist  and has years of experience in their respective field, and it shows – diligent and polite, they have earned the trust of thousands of satisfied customers.
Set up your tray work electrical installation session with ease
Hiring the precise electrician will only take a few minutes of your time. All you need to do is reach out to our helpful advisers on our online chat, via our customer-friendly booking form. You can also make all your electrical install arrangements by dialling 0565787597. The lightning-fast team will then arrive at your preferred time to fix everything for you.
You decide when you want to get things done
Just because our service conforms to all UAE standards for electrical installations doesn't mean that you should wait in line. Quite the opposite – your  electrician can visit you at any day of the week, weekends and bank holidays included. And if you are really in a hurry, we will also gladly offer you a same-day service. As you can see, with  Handyman, things will always go your way!
Enjoy a wide service coverage
The skilled professionals can easily travel to and install quality electric installations in any given Dubai district. So, no matter where your home is located in the capital, the team will always be able to visit your address on time to fix or install your electrical installation with little to no hassle.
Abu Hail,
Al Awir First,
Al Awir Second,
Al Bada,
Al Baraha,
Al Barsha First,
Al Barsha Second,
Al Barsha South First,
Al Barsha South Second,
Al Barsha South Third,
Al Barsha Third,
Al Buteen,
Al Dhagaya,
Al Furjan,
Al Garhoud,
Al Guoz Fourth,
Al Hamriya, Dubai,
Al Hamriya Port,
Al Hudaiba,
Al Jaddaf,
Al Jafiliya,
Al Karama,
Al Khabisi,
Al Khwaneej First,
Al Khwaneej Second,
Al Kifaf,
Al Mamzar,
Al Manara,
Al Merkad,
Al Mina,
Al Mizhar First,
Al Mizhar Second,
Al Muraqqabat,
Al Murar,
Al Sabkha,
Al Muteena
Al Nahda First,
Al Nahda Second,
Al Quoz First,
Al Quoz Industrial First,
Al Quoz Industrial Fourth,
Al Quoz Industrial Second,
Al Quoz Industrial Third,
Al Quoz Second,
Al Quoz Third,
Al Qusais First,
Al Qusais Industrial Fifth,
Al Qusais Industrial First,
Al Qusais Industrial Fourth,
Al Qusais Industrial Second,
Al Qusais Industrial Third,
Al Qusais Second,
Al Qusais Third,
Al Raffa,
Al Ras,
Al Rashidiya,
Al Rigga,
Al Safa First,
Al Safa Second,
Al Safouh First,
Al Safouh Second,
Al Satwa,
Al Shindagha,
Al Souq Al Kabeer,
Al Twar First,
Al Twar Second,
Al Twar Third,
Al Warqa'a Fifth,
Al Warqa'a First,
Al Warqa'a Fourth,
Al Warqa'a Second,
Al Warqa'a Third,
Al Wasl,
Al Waheda,
Ayal Nasir,
Aleyas,
Bu Kadra,
Dubai Investment park First,
Dubai Investment Park Second,
Dubai Media City,
Dubai Internet City,
Emirates Hill First,
Emirates Hill Second,
Emirates Hill Third,
Hatta,
Hor Al Anz,
Hor Al Anz East,
Jebel Ali 1,
Jebel Ali 2,
Jebel Ali Industrial,
Jebel Ali Palm,
Jumeira First,
Palm Jumeirah,
Jumeirah Second,
Jumeirah Third,
Jumeirah 1,
Jumeirah 2,
Jumeirah 3,
Jumeirah Park,
Jumeirah Village circle,
Jumeirah Dirstricts,
Arabian Renches,
Motor City,
Silicon Osis,
Jumeirah Beach Residence,
Al Wasl,
Al Safa,
Umm Al Sheif,
Umm Suqiem,
Madinat Jumeirah,
Al Mankhool,
Marsa Dubai,
Meadows,
Mirdif,
Muhaisanah Fourth,
Muhaisanah Second,
Muhaisanah Third,
Muhaisnah First,
Al Mushrif,
Nad Al Hammar,
Nadd Al Shiba Fourth,
Nadd Al Shiba Second,
Nadd Al Shiba Third,
Nad Shamma,
Naif,
Al Muteena First,
Al Muteena Second,
Al Nasr, Dubai,
port Saeed,
Arabian Ranches,
Ras Al Khor,
Ras Al Khor Industrial First,
Ras Al Khor Industrial Second,
Ras Al Khor Industrial Third,
Rigga Al Buteen,
Springs,
Meadows,
Trade Centre 1,
Trade Centre 2,
Umm Al Sheif,
Umm Hurair First,
Umm Hurair Second,
Umm Ramool,
Umm Suqeim First,
Umm Suqeim Second,
Umm Suqeim Third,
Wadi Alamardi,
Warsan First,
Warsan Second,
Za'abeel First,
Za'abeel Second,
Knowledge Village,
Dubai Media City,
Dubai Internet City,
The Greens,
Discovery Gardens,
Green Community,
Jebel Ali Gardens,
Aykon city,
Tcom city,
Downtown Dubai,
Elite Residence,
Dubai Sports City,
Business Bay,
Falcon City,
Jumeirah Village Triangle,
Sheikh Zaid Road,
Polo Homes,
Studio City,
The Garden Dubai,
Dubai Marina,
Mudon villa,
Flamingo Villa,
The Lakes,
Jumeirah Hights,
Jumeirah Islands,
Dubai production city,
Jumeirah Golf Estate,
Mudon,
The Sustainable city,
Layan,
Al Waha,
Dubai lifestyle city,