Enjoy a Safe TV Wall Mounting Service, With Wires Neatly Tucked Away
The easy way to enjoy your TV Installation
Are you eager to install that new flat screen TV? Are you still trying to figure out where to mount it exactly?
Enjoy the benefits of the Handyman TV installation Service:
We send a fully insured professional within 2 days of your initial request;
We carefully unpack your unit and help you choose the best location for a wall mount;
Install wall brackets to your chosen position while safely mounting your flat television to the wall;
Tune in your TV and wire any other existing equipment;
Installation of your new home cinema or sound bar system upon request;
Making sure all wires are neatly tucked away;
TV Installation
All your questions answered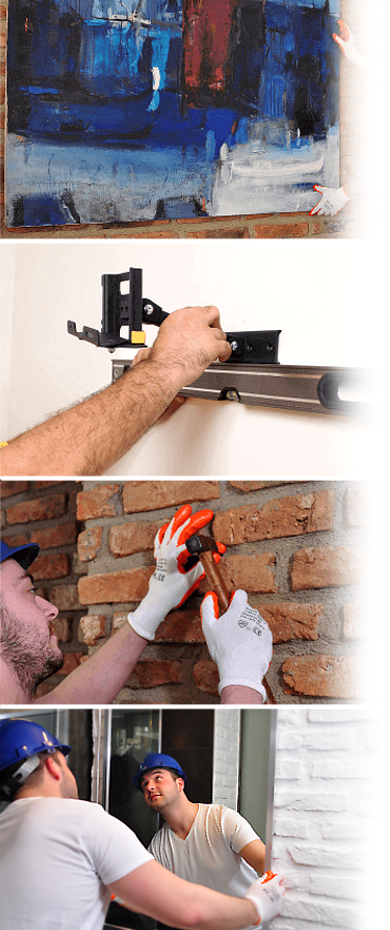 Fitting 1 x 20″ TV screen to masonry wall (plasma or LCD) will take about 30 minutes;
Fitting 1 x 42″ TV screen to masonry wall (plasma or LCD) will take about 1 hour (this job will require a second pair of hands, so let us know in advance so that we can send an extra handyman);
Cable or wire management and trunking will take about 30 minutes;
Chasing cables into walls takes a variable time to complete (we recommend that you book us for TV mounting, during which we can provide you with an estimate for the cost of chasing those pesky cables).
Handyman note: The mounting process depends on the type of wall, TV model, and the bracket type.
Are my walls suitable for wall mounting a TV?
Robust walls with brick, plaster, or concrete are just fine for your TV installation service. However, walls made of plasterboard, plaster, and lathe are not optimal for a TV wall installation as they may not be able to fully support the weight. If that is your case, you better look for an upright timber at the right spot behind the plasterboard. If you have that covered, then the handyman will be able to fit your TV to the wall with no problems whatsoever.
Do I have to do anything prior to my handyman appointment?
Please make sure that you have the right bracket for your TV. Even those so-called "universal" brackets can often prove misleading. In case you are not sure if you have the right bracket for your wall mount or not, then  Handyman will gladly grant you advice! For instance, the pros can easily assist you with flat-to-wall bracket installation, tilting bracket fitting, and tilt and swivel bracket placement. The specialists can even improve your viewing experience further with multi-positional bracket fitting! Just keep in mind that the TV installation on wall cost for this or any other related task will be added to your final bill. Don't forget to also show your installer exactly where you want the television screen to be placed, as well as a suitable outlet (usually, directly below or behind the unit).
Where should my TV be wall mounted?
Well, your television installer can definitely help you determine where your TV should be wall mounted… There are 3 things to keep in mind: the power outlet, the location of the wall studs (to properly support the weight), as well as where you are going to sit while watching. In most cases, mounting a TV over the fireplace is not a good idea. Also, a tilting or swivel TV mount may be just the thing you need should you want the screen to be situated higher.
I have a Philips TV. Can you mount it on my wall?
Absolutely! Just say the word and the experts will arrive with the right tools to mount your TV and safely conceal any stray wires to ensure your hazard-free, thriller-packed evening. Besides Philips, the diligent specialists can also place brackets by any wall bracket manufacturer, namely: Sansum, Omnimount, Duronic, Vogel's, Ultimate mounts, Ross, VonHaus, Peerless, AVF, One for all, Proper, Sandstorm, Lumi, Meos and anything else you can think of!
Please note: We send 2 handymen to efficiently mount 42" screens or bigger.
What types of TV sets & home cinema systems can you install?
The experienced handymen can safely place, fix, secure, and mount TV & home audio systems of any type and size. The pros will waste no time in setting up your home cinema, neatly mounting your gadgets and tucking all cables faster than you can make a cup of coffee. Here is what the specialists can install to bring the movie theatre to the comfort of your living room:
Plasma, LED, LCD, HDTV, and 3D Television;
Home cinema systems and home theatres;
Home audio systems, sound bars, and much more!
Abu Hail,
Al Awir First,
Al Awir Second,
Al Bada,
Al Baraha,
Al Barsha First,
Al Barsha Second,
Al Barsha South First,
Al Barsha South Second,
Al Barsha South Third,
Al Barsha Third,
Al Buteen,
Al Dhagaya,
Al Furjan,
Al Garhoud,
Al Guoz Fourth,
Al Hamriya, Dubai,
Al Hamriya Port,
Al Hudaiba,
Al Jaddaf,
Al Jafiliya,
Al Karama,
Al Khabisi,
Al Khwaneej First,
Al Khwaneej Second,
Al Kifaf,
Al Mamzar,
Al Manara,
Al Merkad,
Al Mina,
Al Mizhar First,
Al Mizhar Second,
Al Muraqqabat,
Al Murar,
Al Sabkha,
Al Muteena
Al Nahda First,
Al Nahda Second,
Al Quoz First,
Al Quoz Industrial First,
Al Quoz Industrial Fourth,
Al Quoz Industrial Second,
Al Quoz Industrial Third,
Al Quoz Second,
Al Quoz Third,
Al Qusais First,
Al Qusais Industrial Fifth,
Al Qusais Industrial First,
Al Qusais Industrial Fourth,
Al Qusais Industrial Second,
Al Qusais Industrial Third,
Al Qusais Second,
Al Qusais Third,
Al Raffa,
Al Ras,
Al Rashidiya,
Al Rigga,
Al Safa First,
Al Safa Second,
Al Safouh First,
Al Safouh Second,
Al Satwa,
Al Shindagha,
Al Souq Al Kabeer,
Al Twar First,
Al Twar Second,
Al Twar Third,
Al Warqa'a Fifth,
Al Warqa'a First,
Al Warqa'a Fourth,
Al Warqa'a Second,
Al Warqa'a Third,
Al Wasl,
Al Waheda,
Ayal Nasir,
Aleyas,
Bu Kadra,
Dubai Investment park First,
Dubai Investment Park Second,
Dubai Media City,
Dubai Internet City,
Emirates Hill First,
Emirates Hill Second,
Emirates Hill Third,
Hatta,
Hor Al Anz,
Hor Al Anz East,
Jebel Ali 1,
Jebel Ali 2,
Jebel Ali Industrial,
Jebel Ali Palm,
Jumeira First,
Palm Jumeirah,
Jumeirah Second,
Jumeirah Third,
Jumeirah 1,
Jumeirah 2,
Jumeirah 3,
Jumeirah Park,
Jumeirah Village circle,
Jumeirah Dirstricts,
Arabian Renches,
Motor City,
Silicon Osis,
Jumeirah Beach Residence,
Al Wasl,
Al Safa,
Umm Al Sheif,
Umm Suqiem,
Madinat Jumeirah,
Al Mankhool,
Marsa Dubai,
Meadows,
Mirdif,
Muhaisanah Fourth,
Muhaisanah Second,
Muhaisanah Third,
Muhaisnah First,
Al Mushrif,
Nad Al Hammar,
Nadd Al Shiba Fourth,
Nadd Al Shiba Second,
Nadd Al Shiba Third,
Nad Shamma,
Naif,
Al Muteena First,
Al Muteena Second,
Al Nasr, Dubai,
port Saeed,
Arabian Ranches,
Ras Al Khor,
Ras Al Khor Industrial First,
Ras Al Khor Industrial Second,
Ras Al Khor Industrial Third,
Rigga Al Buteen,
Springs,
Meadows,
Trade Centre 1,
Trade Centre 2,
Umm Al Sheif,
Umm Hurair First,
Umm Hurair Second,
Umm Ramool,
Umm Suqeim First,
Umm Suqeim Second,
Umm Suqeim Third,
Wadi Alamardi,
Warsan First,
Warsan Second,
Za'abeel First,
Za'abeel Second,
Knowledge Village,
Dubai Media City,
Dubai Internet City,
The Greens,
Discovery Gardens,
Green Community,
Jebel Ali Gardens,
Aykon city,
Tcom city,
Downtown Dubai,
Elite Residence,
Dubai Sports City,
Business Bay,
Falcon City,
Jumeirah Village Triangle,
Sheikh Zaid Road,
Polo Homes,
Studio City,
The Garden Dubai,
Dubai Marina,
Mudon villa,
Flamingo Villa,
The Lakes,
Jumeirah Hights,
Jumeirah Islands,
Dubai production city,
Jumeirah Golf Estate,
Mudon,
The Sustainable city,
Layan,
Al Waha,
Dubai lifestyle city,