Have your kitchen appliances safely connected by skilled technicians
Even if your old fridge miraculously keeps on working twenty years later, it doesn't mean that it will last until the end of time. Unfortunately, the task of removing this heavy, rusty piece of antiquity and replacing it with the latest model on the market is not as easy as it may sound. The same rule applies when you need to deal with new dishwashers, washing machines, tumble dryers, or any other modern kitchen units – there are just too many things that could go wrong if you decide to take matters into your own hands the task of Kitchen Appliance Installation.
This FAQ will answer all your dishwasher installation questions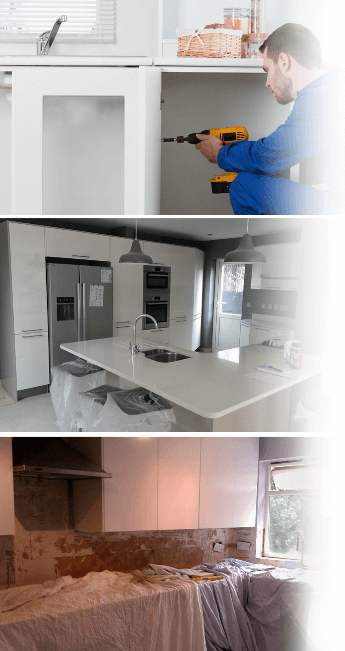 Q: Why count on  Handyman for a foolproof white goods installation?
Finding a place for your appliance is just the start because you will also need to have the proper tools and skillset to actually put it to good use. And if you don't know the first thing about plumbing, then we suggest to let the specialists at  Handyman handle Kitchen Appliance Installation delicate task for you. The pros have lots of experience with fitting all types of electrical connections. The team will also follow the manufacturer's instructions word for word and will ensure that your appliance is connected to a suitable water supply.
Q: How will a certified expert be able to help me with my fitting kitchen project?
A: When fitting a washing machine or any other white goods appliance on your own, you can easily end up with a leaking product that will cost you lots of money to repair. But with an efficient specialist at your disposal, you will have your Kitchen Appliance Installation up and running in no time. The professional will decipher the elaborate instructions for you, keep track of every stray piece of hardware, and even neatly dispose of your previous appliance to free up a bit of breathing space.
Q: How will the kitchen appliance installation services be carried out?
The diligent handyman team will always follow a series of steps to ensure your safety and keep your Kitchen Appliance Installation. During each dishwasher fitting service, the technicians will:
Diligently disconnect any old appliances, such as a fridge or an oven;
Connect your brand new white goods appliances in a kitchen spot of your preference;
Inspect your appliances to test their indicator lights and their overall performance;
Provide you with a helpful maintenance Q&A session for your individual appliance.
Q: Will your appliance installation service include all necessary components?
A: If the job involves installing a tumble dryer, a washing machine, or fitting an integrated dishwasher, Kitchen Appliance Installation ,then some suitable cords, exhausts, pipes, or other potentially needed parts are needed. Of course, if such are already included in your original packaging, then the competent and tidy technicians will have no problem fitting those instead.
Q: What if I have a question that is not included in this FAQ?
A: If you are still left with unanswered washing machine installation questions, make sure to get in touch with our polite and knowledgeable advisers. You can contact them over the phone, our real-time chat, by via the online booking form. Our customer support is available 24/7 and is always ready and willing to help you pick the services you need the most.
Q: Can you provide me with a reliable estimated time of arrival?
A: The handymen's estimated time of arrival is about an hour, depending on traffic. If possible, they will carry out your appliance connection service on the same day of your booking, as long as you have called us in advance. If they cannot visit your property at your desired hour, the experts will make sure to arrive at your doorstep on the very next day.
Abu Hail,
Al Awir First,
Al Awir Second,
Al Bada,
Al Baraha,
Al Barsha First,
Al Barsha Second,
Al Barsha South First,
Al Barsha South Second,
Al Barsha South Third,
Al Barsha Third,
Al Buteen,
Al Dhagaya,
Al Furjan,
Al Garhoud,
Al Guoz Fourth,
Al Hamriya, Dubai,
Al Hamriya Port,
Al Hudaiba,
Al Jaddaf,
Al Jafiliya,
Al Karama,
Al Khabisi,
Al Khwaneej First,
Al Khwaneej Second,
Al Kifaf,
Al Mamzar,
Al Manara,
Al Merkad,
Al Mina,
Al Mizhar First,
Al Mizhar Second,
Al Muraqqabat,
Al Murar,
Al Sabkha,
Al Muteena
Al Nahda First,
Al Nahda Second,
Al Quoz First,
Al Quoz Industrial First,
Al Quoz Industrial Fourth,
Al Quoz Industrial Second,
Al Quoz Industrial Third,
Al Quoz Second,
Al Quoz Third,
Al Qusais First,
Al Qusais Industrial Fifth,
Al Qusais Industrial First,
Al Qusais Industrial Fourth,
Al Qusais Industrial Second,
Al Qusais Industrial Third,
Al Qusais Second,
Al Qusais Third,
Al Raffa,
Al Ras,
Al Rashidiya,
Al Rigga,
Al Safa First,
Al Safa Second,
Al Safouh First,
Al Safouh Second,
Al Satwa,
Al Shindagha,
Al Souq Al Kabeer,
Al Twar First,
Al Twar Second,
Al Twar Third,
Al Warqa'a Fifth,
Al Warqa'a First,
Al Warqa'a Fourth,
Al Warqa'a Second,
Al Warqa'a Third,
Al Wasl,
Al Waheda,
Ayal Nasir,
Aleyas,
Bu Kadra,
Dubai Investment park First,
Dubai Investment Park Second,
Dubai Media City,
Dubai Internet City,
Emirates Hill First,
Emirates Hill Second,
Emirates Hill Third,
Hatta,
Hor Al Anz,
Hor Al Anz East,
Jebel Ali 1,
Jebel Ali 2,
Jebel Ali Industrial,
Jebel Ali Palm,
Jumeira First,
Palm Jumeirah,
Jumeirah Second,
Jumeirah Third,
Jumeirah 1,
Jumeirah 2,
Jumeirah 3,
Jumeirah Park,
Jumeirah Village circle,
Jumeirah Dirstricts,
Arabian Renches,
Motor City,
Silicon Osis,
Jumeirah Beach Residence,
Al Wasl,
Al Safa,
Umm Al Sheif,
Umm Suqiem,
Madinat Jumeirah,
Al Mankhool,
Marsa Dubai,
Meadows,
Mirdif,
Muhaisanah Fourth,
Muhaisanah Second,
Muhaisanah Third,
Muhaisnah First,
Al Mushrif,
Nad Al Hammar,
Nadd Al Shiba Fourth,
Nadd Al Shiba Second,
Nadd Al Shiba Third,
Nad Shamma,
Naif,
Al Muteena First,
Al Muteena Second,
Al Nasr, Dubai,
port Saeed,
Arabian Ranches,
Ras Al Khor,
Ras Al Khor Industrial First,
Ras Al Khor Industrial Second,
Ras Al Khor Industrial Third,
Rigga Al Buteen,
Springs,
Meadows,
Trade Centre 1,
Trade Centre 2,
Umm Al Sheif,
Umm Hurair First,
Umm Hurair Second,
Umm Ramool,
Umm Suqeim First,
Umm Suqeim Second,
Umm Suqeim Third,
Wadi Alamardi,
Warsan First,
Warsan Second,
Za'abeel First,
Za'abeel Second,
Knowledge Village,
Dubai Media City,
Dubai Internet City,
The Greens,
Discovery Gardens,
Green Community,
Jebel Ali Gardens,
Aykon city,
Tcom city,
Downtown Dubai,
Elite Residence,
Dubai Sports City,
Business Bay,
Falcon City,
Jumeirah Village Triangle,
Sheikh Zaid Road,
Polo Homes,
Studio City,
The Garden Dubai,
Dubai Marina,
Mudon villa,
Flamingo Villa,
The Lakes,
Jumeirah Hights,
Jumeirah Islands,
Dubai production city,
Jumeirah Golf Estate,
Mudon,
The Sustainable city,
Layan,
Al Waha,
Dubai lifestyle city,