Get your flooring back in shape with trusty laminate floor repair Dubai
aminate or wood flooring will often cost you a small fortune to install, especially if you own a sizable property. But in case you've pulled a chair a bit too hard or dropped a heavy refrigerator on top, don't be quick to spend heaps of money on a restoration project. With Handyman, you can get a speedy and reliable wood floor repair service that is designed around your individual floor and the damage it has sustained. And all of this will come at a fairly budget-friendly price, too!
The experienced specialists can fix any type of Wood Floor Repair
Is your oak kitchen flooring marred by a scratch or two? The qualified and precise experts can neatly mask any signs of wear. They can also provide you with quality wood floor refinishing and tidy laminate, hardwood, maple, cherry, or even parquet flooring repair. Speaking of floor repair, let's take a look at what else the reliable professionals can do for you:
Skillfully hide unsightly scratches from view;
Fix chipped or dented furniture surfaces;
Prevent or deal with the effects of water damage;
Competently repair or replace squeaky floorboards;
Fill in surface cracks to repair floor tiles.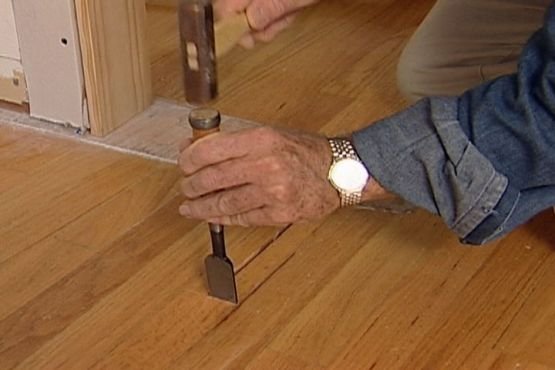 Learn all about wood floor repair with this short FAQ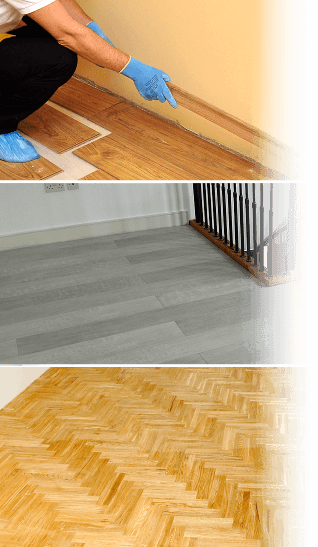 Q: Why should I hire a professional to do Wood Floor Repair for me?
A: If you tuck up your sleeves and do the flooring repair yourself, it's very easy to hammer the nails and tacks in all the wrong places, apply too much adhesive, or replace the floorboards incorrectly. In either case, you will restrict your flooring's movement, which will lead to all sorts of expensive problems in the future. A certified specialist will know how to restore your flooring's appeal without any of these hassles.
Q: I recently dropped a bulky item on my hardwood floor. Will you be able to repair the damage?
A: The knowledgeable London team will be happy to assist you with quality hardwood or other type of floor repair, as long as the surface is merely chipped or slightly scratched. To mask such unsightly marks as elegantly as possible, the pros will either use suitable filler products or apply the right amount of putty.
Q: Should I hire laminate flooring repair if I have loose planks or uneven laminate?
A: Absolutely! However, if the damage is too severe, the handymen will have to replace the individual plank or the entire affected floorboard segment instead. When repairing laminate flooring, the experts will also need to know whether it's glued on or snapped together so that they could neatly replace your damaged planks with ones of identical size and hue.
Q: Can you inspect my wooden floor for defects?
A: Yes, the diligent team can inspect all boards in your home or office to determine whether any of them are warped, uneven, or simply worn out. If some are damaged beyond repair, the friendly handymen will shop for a set of new materials that will best fit your stylistic preferences and budget.
Q: What will my fixing a floor session include?
A: Depending on your flooring's current condition, your session may involve anything from wood floor staining, sanding, and gap filling, to professional floor tiles, concrete, or hardwood repair. The seasoned pros will work fast, follow all safety procedures, and keep your place as clean as they initially found it.
Q: Will I need to provide the experts with any materials?
A: The handymen will bring along a range of tools and materials to complete any small domestic tasks. However, if your flooring project requires special materials, you will need to purchase those upfront and prepare them for the experts' arrival. In case you cannot do this on your own or the items are hard to come by, the reliable specialists will readily supply them for you on the day of your appointment.
Abu Hail,
Al Awir First,
Al Awir Second,
Al Bada,
Al Baraha,
Al Barsha First,
Al Barsha Second,
Al Barsha South First,
Al Barsha South Second,
Al Barsha South Third,
Al Barsha Third,
Al Buteen,
Al Dhagaya,
Al Furjan,
Al Garhoud,
Al Guoz Fourth,
Al Hamriya, Dubai,
Al Hamriya Port,
Al Hudaiba,
Al Jaddaf,
Al Jafiliya,
Al Karama,
Al Khabisi,
Al Khwaneej First,
Al Khwaneej Second,
Al Kifaf,
Al Mamzar,
Al Manara,
Al Merkad,
Al Mina,
Al Mizhar First,
Al Mizhar Second,
Al Muraqqabat,
Al Murar,
Al Sabkha,
Al Muteena
Al Nahda First,
Al Nahda Second,
Al Quoz First,
Al Quoz Industrial First,
Al Quoz Industrial Fourth,
Al Quoz Industrial Second,
Al Quoz Industrial Third,
Al Quoz Second,
Al Quoz Third,
Al Qusais First,
Al Qusais Industrial Fifth,
Al Qusais Industrial First,
Al Qusais Industrial Fourth,
Al Qusais Industrial Second,
Al Qusais Industrial Third,
Al Qusais Second,
Al Qusais Third,
Al Raffa,
Al Ras,
Al Rashidiya,
Al Rigga,
Al Safa First,
Al Safa Second,
Al Safouh First,
Al Safouh Second,
Al Satwa,
Al Shindagha,
Al Souq Al Kabeer,
Al Twar First,
Al Twar Second,
Al Twar Third,
Al Warqa'a Fifth,
Al Warqa'a First,
Al Warqa'a Fourth,
Al Warqa'a Second,
Al Warqa'a Third,
Al Wasl,
Al Waheda,
Ayal Nasir,
Aleyas,
Bu Kadra,
Dubai Investment park First,
Dubai Investment Park Second,
Dubai Media City,
Dubai Internet City,
Emirates Hill First,
Emirates Hill Second,
Emirates Hill Third,
Hatta,
Hor Al Anz,
Hor Al Anz East,
Jebel Ali 1,
Jebel Ali 2,
Jebel Ali Industrial,
Jebel Ali Palm,
Jumeira First,
Palm Jumeirah,
Jumeirah Second,
Jumeirah Third,
Jumeirah 1,
Jumeirah 2,
Jumeirah 3,
Jumeirah Park,
Jumeirah Village circle,
Jumeirah Dirstricts,
Arabian Renches,
Motor City,
Silicon Osis,
Jumeirah Beach Residence,
Al Wasl,
Al Safa,
Umm Al Sheif,
Umm Suqiem,
Madinat Jumeirah,
Al Mankhool,
Marsa Dubai,
Meadows,
Mirdif,
Muhaisanah Fourth,
Muhaisanah Second,
Muhaisanah Third,
Muhaisnah First,
Al Mushrif,
Nad Al Hammar,
Nadd Al Shiba Fourth,
Nadd Al Shiba Second,
Nadd Al Shiba Third,
Nad Shamma,
Naif,
Al Muteena First,
Al Muteena Second,
Al Nasr, Dubai,
port Saeed,
Arabian Ranches,
Ras Al Khor,
Ras Al Khor Industrial First,
Ras Al Khor Industrial Second,
Ras Al Khor Industrial Third,
Rigga Al Buteen,
Springs,
Meadows,
Trade Centre 1,
Trade Centre 2,
Umm Al Sheif,
Umm Hurair First,
Umm Hurair Second,
Umm Ramool,
Umm Suqeim First,
Umm Suqeim Second,
Umm Suqeim Third,
Wadi Alamardi,
Warsan First,
Warsan Second,
Za'abeel First,
Za'abeel Second,
Knowledge Village,
Dubai Media City,
Dubai Internet City,
The Greens,
Discovery Gardens,
Green Community,
Jebel Ali Gardens,
Aykon city,
Tcom city,
Downtown Dubai,
Elite Residence,
Dubai Sports City,
Business Bay,
Falcon City,
Jumeirah Village Triangle,
Sheikh Zaid Road,
Polo Homes,
Studio City,
The Garden Dubai,
Dubai Marina,
Mudon villa,
Flamingo Villa,
The Lakes,
Jumeirah Hights,
Jumeirah Islands,
Dubai production city,
Jumeirah Golf Estate,
Mudon,
The Sustainable city,
Layan,
Al Waha,
Dubai lifestyle city,