Get rid of funky smells with fool-proof insinkerator & saniflo repair in Dubai
It's not everyday that to gett your Saniflo and Insinkerator Repair Dubai. But when it does, your bathroom or kitchen will turn very noisy… and suspiciously smelly. So, leave your gas mask aside and contact Handyman for professional macerator pump or sink disposal repair. The pros have the tools and the drive to declog, fix, or completely replace your waste disposal device and get the motor humming. Our services also offer perks, such as:
Get long-lasting results without disturbing your routine or that of your neighbours;
All work will be done in line with the latest UAE health & safety regulations;
Fix leaky pipes, order thorough bath plumbing, replace faulty showers, and more;
Book food waste disposer repair for workdays, weekends, and even bank holidays;
Hire experienced and thoughtful pros with over 10 years of experience in the market;
Have your garbage disposal system fixed anywhere within Dubai.
Check out our FAQ on insinkerator service in Dubai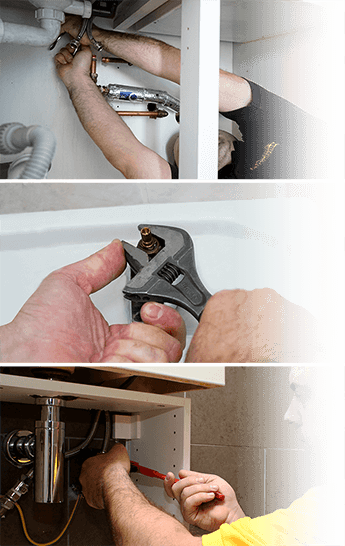 What does your Saniflo and Insinkerator Repair Dubai include?
Your session will start with a thorough inspection of your waste disposal system to identify the exact cause for its malfunction. The professionals will bring stoppers, seals, tailpipes, and any other materials you need to fix your insinkerator or saniflo system problems on-site. Usually, changing the faulty component or removing the blockage is all it takes to get your gadget up and running again. And in the rare instances where your disposer is still not working, the trained handymen can effortlessly remove your old unit and replace it with the latest available model.
Does your Saniflo and Insinkerator Repair Dubair involve replacement of individual parts?
Absolutely! We can change anything from simple air switches and brackets to shredding plates. After assessing your individual problem, your plumber will easily find and replace the faulty part to make your waste disposal system function without a hitch. Of course, this may not be the only issue that stops your waste disposal unit from doing its job. For instance, if your insinkerator leaks from the bottom side, then you may need more extensive repairs or a complete replacement. Whatever the case, you can always count on your pro to come up with a solution.
What waste disposal repairs can the skilled specialists perform?
There are many reasons why your sink disposal is not working, but none that the pros can't handle . With the right set of tools for Saniflo and Insinkerator Repair Dubai, the dexterous specialists can readily fix slow-pumping saniflo systems, various limescale problems, slab leaks, or chase out the accumulated waste from smelly insinkerators. And what if your disposal device is making disturbing noises or moves about? If tightening loose bolts doesn't cut it and a risk of blowout or water damage is suspected, the team will take a closer look and do whatever it takes to keep your home safe.
Can you inspect and fix my Panda waste disposer?
When it comes to bathroom & kitchen sink disposer repair and replacement, the diligent professionals can deal with just about any product on the market. Besides restoring your Panda or Insinkerator food waste disposer back to good working condition, the handymen can also fix units by other brands, ensuring that those blades will keep on turning no matter what. So, count on the plumbers to get the job done without a hitch should you also own products made by:
Maxmatic, Waste Maid;
Franke, Waste King;
Reginox, Tweeny;
ISE and many more.
Why is my Saniflo refusing to switch off?
There are many reasons why your Saniflo is stuck in an endless loop. For instance, it may be caused by something as small as a running tap that has gone unnoticed for a long time. This issue could also result from a blockage in the Saniflo's waste pipe, a faulty membrane, or a microswitch stuck in "on" position. In any case, it's always best to leave your broken insinkerator or Saniflo to a certified plumber who will have the tools and skills to safely disassemble your device, find the root of the problem, and fix the malfunction in no time.
Do you offer next-day food sink disposal services?
We are happy to inform you that we perform next-day waste disposal unit repair in all districts within Dubai. Simply use our user-friendly online booking form, write "Hi" on our real-time chat, or give us a ring. Next, mention your home address and post code and share as much details about your situation as possible. All you'll need to do then is choose an hour at which you want the professionals to arrive on your doorstep, and voila – your Saniflo and Insinkerator Repair Dubai on the very same day!
Abu Hail,
Al Awir First,
Al Awir Second,
Al Bada,
Al Baraha,
Al Barsha First,
Al Barsha Second,
Al Barsha South First,
Al Barsha South Second,
Al Barsha South Third,
Al Barsha Third,
Al Buteen,
Al Dhagaya,
Al Furjan,
Al Garhoud,
Al Guoz Fourth,
Al Hamriya, Dubai,
Al Hamriya Port,
Al Hudaiba,
Al Jaddaf,
Al Jafiliya,
Al Karama,
Al Khabisi,
Al Khwaneej First,
Al Khwaneej Second,
Al Kifaf,
Al Mamzar,
Al Manara,
Al Merkad,
Al Mina,
Al Mizhar First,
Al Mizhar Second,
Al Muraqqabat,
Al Murar,
Al Sabkha,
Al Muteena
Al Nahda First,
Al Nahda Second,
Al Quoz First,
Al Quoz Industrial First,
Al Quoz Industrial Fourth,
Al Quoz Industrial Second,
Al Quoz Industrial Third,
Al Quoz Second,
Al Quoz Third,
Al Qusais First,
Al Qusais Industrial Fifth,
Al Qusais Industrial First,
Al Qusais Industrial Fourth,
Al Qusais Industrial Second,
Al Qusais Industrial Third,
Al Qusais Second,
Al Qusais Third,
Al Raffa,
Al Ras,
Al Rashidiya,
Al Rigga,
Al Safa First,
Al Safa Second,
Al Safouh First,
Al Safouh Second,
Al Satwa,
Al Shindagha,
Al Souq Al Kabeer,
Al Twar First,
Al Twar Second,
Al Twar Third,
Al Warqa'a Fifth,
Al Warqa'a First,
Al Warqa'a Fourth,
Al Warqa'a Second,
Al Warqa'a Third,
Al Wasl,
Al Waheda,
Ayal Nasir,
Aleyas,
Bu Kadra,
Dubai Investment park First,
Dubai Investment Park Second,
Dubai Media City,
Dubai Internet City,
Emirates Hill First,
Emirates Hill Second,
Emirates Hill Third,
Hatta,
Hor Al Anz,
Hor Al Anz East,
Jebel Ali 1,
Jebel Ali 2,
Jebel Ali Industrial,
Jebel Ali Palm,
Jumeira First,
Palm Jumeirah,
Jumeirah Second,
Jumeirah Third,
Jumeirah 1,
Jumeirah 2,
Jumeirah 3,
Jumeirah Park,
Jumeirah Village circle,
Jumeirah Dirstricts,
Arabian Renches,
Motor City,
Silicon Osis,
Jumeirah Beach Residence,
Al Wasl,
Al Safa,
Umm Al Sheif,
Umm Suqiem,
Madinat Jumeirah,
Al Mankhool,
Marsa Dubai,
Meadows,
Mirdif,
Muhaisanah Fourth,
Muhaisanah Second,
Muhaisanah Third,
Muhaisnah First,
Al Mushrif,
Nad Al Hammar,
Nadd Al Shiba Fourth,
Nadd Al Shiba Second,
Nadd Al Shiba Third,
Nad Shamma,
Naif,
Al Muteena First,
Al Muteena Second,
Al Nasr, Dubai,
port Saeed,
Arabian Ranches,
Ras Al Khor,
Ras Al Khor Industrial First,
Ras Al Khor Industrial Second,
Ras Al Khor Industrial Third,
Rigga Al Buteen,
Springs,
Meadows,
Trade Centre 1,
Trade Centre 2,
Umm Al Sheif,
Umm Hurair First,
Umm Hurair Second,
Umm Ramool,
Umm Suqeim First,
Umm Suqeim Second,
Umm Suqeim Third,
Wadi Alamardi,
Warsan First,
Warsan Second,
Za'abeel First,
Za'abeel Second,
Knowledge Village,
Dubai Media City,
Dubai Internet City,
The Greens,
Discovery Gardens,
Green Community,
Jebel Ali Gardens,
Aykon city,
Tcom city,
Downtown Dubai,
Elite Residence,
Dubai Sports City,
Business Bay,
Falcon City,
Jumeirah Village Triangle,
Sheikh Zaid Road,
Polo Homes,
Studio City,
The Garden Dubai,
Dubai Marina,
Mudon villa,
Flamingo Villa,
The Lakes,
Jumeirah Hights,
Jumeirah Islands,
Dubai production city,
Jumeirah Golf Estate,
Mudon,
The Sustainable city,
Layan,
Al Waha,
Dubai lifestyle city,