Protect your home from rain and snow with leak repair Dubai
Raindrops dripping down your hallway walls or from your kitchen ceiling are more than just a mild annoyance. And while fixing a leaks fixing or replacing old or faulty pipes is not exactly cheap, a proper water leak repair is sure to save you lots of hassle in the long run.
If a leaking roof or a heavily leaking pipe is left ignored, the resulting water streaks will promote the growth of mould and mildew on your interior walls, rot your home's wooden foundations, and cause steel surfaces to rust. Should water come into contact with any exposed electrical wires, it may also spark a fire that can quickly spread from room to room. And let's not forget that the excess drops of water released by, say, a leaking shower or a dripping faucet, will add a few extra digits to your monthly water bill statement.
Keep water on rails with proper pipe & roof leak repair
No matter where the leaks decide to pop up,  Handyman can help you seal them for good. The precise and skilled technicians can easily fix dripping faucets, leaking taps, water heater leaks, and plumbing leaks. The experts have you covered even if you're in urgent need of more demanding jobs, such as water pipe Leaks Fixing or roof repair, Leaks Fixing.
How the leaks fixing gets done
When the specialists set out to perform leaks fixing, bathtub repair, or other maintenance tasks, they always start by doing the following:
They use special water leak detection gear to pinpoint the leak's location and determine its cause;
They turn off your home's main water shutoff valve to ensure a safe working environment;
They will choose the right plumbing method to perform shower faucet replacement, toilet repair, and any other tasks you need
Learn more about leak repairs from our short FAQ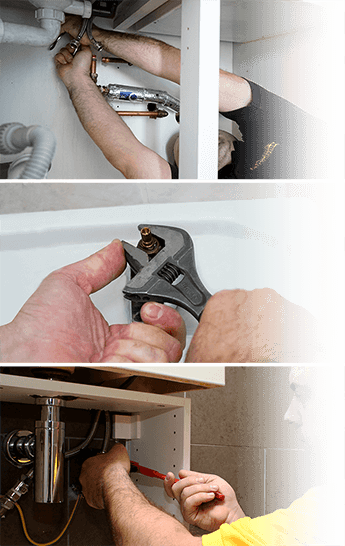 Q: Are roof leaking and other repairs going to be covered by my insurance?
A: Shower faucet repair, kitchen sink repair, leaking pipe repair and other similar services are usually not covered by most insurance policy plans. However, your water supply company may provide you with an allowance if you notify them about your problem within 30 days of discovering the defects.
Q: Why is water leaking in my home?
A: There are many reasons why water is invading your home. For example, you may have postponed your basement leak repair for way too long without even knowing it. Or you've hired inexperienced roof leak repair contractors who only made matters worse. Or perhaps your old pipes simply cracked under the constant water pressure.
Q: How are you able to locate the source of the leak?
A: The quick and efficient handymen have been trained to look for certain roof leak and various other tell-tale signs around your house that will help them identify your problem much faster. The knowledgeable specialists are also no strangers to the different types of water plumbing systems and can fix anything from simple sink leaking to clogged toilets, rusty pipes, and compromised rooftops.
Q: For how long can I leave the leaks unaddressed?
A: The sooner you fix the problem, the better! After all, if you seal the leaks in your home on time, not only will you save a significant sum of money, but also drastically lower the risk of accidental combustion and breathe a fresher, mould-free air.
Abu Hail,
Al Awir First,
Al Awir Second,
Al Bada,
Al Baraha,
Al Barsha First,
Al Barsha Second,
Al Barsha South First,
Al Barsha South Second,
Al Barsha South Third,
Al Barsha Third,
Al Buteen,
Al Dhagaya,
Al Furjan,
Al Garhoud,
Al Guoz Fourth,
Al Hamriya, Dubai,
Al Hamriya Port,
Al Hudaiba,
Al Jaddaf,
Al Jafiliya,
Al Karama,
Al Khabisi,
Al Khwaneej First,
Al Khwaneej Second,
Al Kifaf,
Al Mamzar,
Al Manara,
Al Merkad,
Al Mina,
Al Mizhar First,
Al Mizhar Second,
Al Muraqqabat,
Al Murar,
Al Sabkha,
Al Muteena
Al Nahda First,
Al Nahda Second,
Al Quoz First,
Al Quoz Industrial First,
Al Quoz Industrial Fourth,
Al Quoz Industrial Second,
Al Quoz Industrial Third,
Al Quoz Second,
Al Quoz Third,
Al Qusais First,
Al Qusais Industrial Fifth,
Al Qusais Industrial First,
Al Qusais Industrial Fourth,
Al Qusais Industrial Second,
Al Qusais Industrial Third,
Al Qusais Second,
Al Qusais Third,
Al Raffa,
Al Ras,
Al Rashidiya,
Al Rigga,
Al Safa First,
Al Safa Second,
Al Safouh First,
Al Safouh Second,
Al Satwa,
Al Shindagha,
Al Souq Al Kabeer,
Al Twar First,
Al Twar Second,
Al Twar Third,
Al Warqa'a Fifth,
Al Warqa'a First,
Al Warqa'a Fourth,
Al Warqa'a Second,
Al Warqa'a Third,
Al Wasl,
Al Waheda,
Ayal Nasir,
Aleyas,
Bu Kadra,
Dubai Investment park First,
Dubai Investment Park Second,
Dubai Media City,
Dubai Internet City,
Emirates Hill First,
Emirates Hill Second,
Emirates Hill Third,
Hatta,
Hor Al Anz,
Hor Al Anz East,
Jebel Ali 1,
Jebel Ali 2,
Jebel Ali Industrial,
Jebel Ali Palm,
Jumeira First,
Palm Jumeirah,
Jumeirah Second,
Jumeirah Third,
Jumeirah 1,
Jumeirah 2,
Jumeirah 3,
Jumeirah Park,
Jumeirah Village circle,
Jumeirah Dirstricts,
Arabian Renches,
Motor City,
Silicon Osis,
Jumeirah Beach Residence,
Al Wasl,
Al Safa,
Umm Al Sheif,
Umm Suqiem,
Madinat Jumeirah,
Al Mankhool,
Marsa Dubai,
Meadows,
Mirdif,
Muhaisanah Fourth,
Muhaisanah Second,
Muhaisanah Third,
Muhaisnah First,
Al Mushrif,
Nad Al Hammar,
Nadd Al Shiba Fourth,
Nadd Al Shiba Second,
Nadd Al Shiba Third,
Nad Shamma,
Naif,
Al Muteena First,
Al Muteena Second,
Al Nasr, Dubai,
port Saeed,
Arabian Ranches,
Ras Al Khor,
Ras Al Khor Industrial First,
Ras Al Khor Industrial Second,
Ras Al Khor Industrial Third,
Rigga Al Buteen,
Springs,
Meadows,
Trade Centre 1,
Trade Centre 2,
Umm Al Sheif,
Umm Hurair First,
Umm Hurair Second,
Umm Ramool,
Umm Suqeim First,
Umm Suqeim Second,
Umm Suqeim Third,
Wadi Alamardi,
Warsan First,
Warsan Second,
Za'abeel First,
Za'abeel Second,
Knowledge Village,
Dubai Media City,
Dubai Internet City,
The Greens,
Discovery Gardens,
Green Community,
Jebel Ali Gardens,
Aykon city,
Tcom city,
Downtown Dubai,
Elite Residence,
Dubai Sports City,
Business Bay,
Falcon City,
Jumeirah Village Triangle,
Sheikh Zaid Road,
Polo Homes,
Studio City,
The Garden Dubai,
Dubai Marina,
Mudon villa,
Flamingo Villa,
The Lakes,
Jumeirah Hights,
Jumeirah Islands,
Dubai production city,
Jumeirah Golf Estate,
Mudon,
The Sustainable city,
Layan,
Al Waha,
Dubai lifestyle city,