Unleash the full potential of your workspace
Have you grown tired of seeing the same endless rows of cubicles that occupy your entire office space? You can turn any office design you choose into reality and create a work environment that will benefit your employees and business for years on end with the help of our fit out company in Dubai with Office Renovation Dubai.
Regardless if you need to modernise an old office or give your new commercial property a flying head start,  Handyman will always meet your demands on time and stay within your budget limitations.
HandymanDXB - the right fit for your Dubai office renovation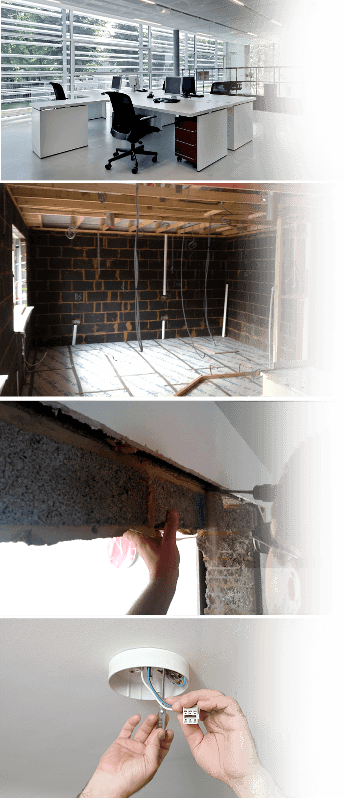 Modernizing existing premise
Conference facilities;
Staff areas;
Wall finishes;
Meeting facilities;
Canteens.
No job is too big or small
Just name the refurbishment services you need and your commercial renovation experts will gladly put them into practice. It doesn't matter if you wish to renew the floor coverings, install new office partition systems and glass partitions, or simply paint your ceiling or walls in matching colours – the fit out specialists will stop at nothing until every step of your office remodeling plan has been fulfilled.
Honest pricing policy
You will receive a detailed price estimation as soon as you book your Office Renovation Dubai. There, we will list all refurbishment costs for each stage of your project – from labour to material and office partitioning costs, every bit of spending will be calculated down to the last digit. This way, you can rest assured knowing that you'll be getting your money's worth.
End of client lease
Changing suspended ceilings;
Altering wall finishes;
Redesigning the layout or floor plan;
Reconfiguring all lighting installations;
Upgrading toilet cubicles/bathrooms/washrooms
All materials are delivered straight to you for Office Renovation Dubai
The Office Renovation Dubai experts will diligently choose and deliver all materials that your project requires straight to your property. To give us a hint of what we need to shop for, simply share your layout ideas with us and we'll take care of the logistics for you!
Quick and efficient Office Renovation Dubai
Even the most successful business is bound to fall as soon as its cogs stop turning for even one minute. The experienced  Handyman professionals know that Office Renovation Dubai well and will implement all improvements very quickly and without getting in the way of your employees' daily work routine. Once they're done with your commercial refurbishment, the team will tidy up the place to ensure that no mess is left behind.
Abu Hail,
Al Awir First,
Al Awir Second,
Al Bada,
Al Baraha,
Al Barsha First,
Al Barsha Second,
Al Barsha South First,
Al Barsha South Second,
Al Barsha South Third,
Al Barsha Third,
Al Buteen,
Al Dhagaya,
Al Furjan,
Al Garhoud,
Al Guoz Fourth,
Al Hamriya, Dubai,
Al Hamriya Port,
Al Hudaiba,
Al Jaddaf,
Al Jafiliya,
Al Karama,
Al Khabisi,
Al Khwaneej First,
Al Khwaneej Second,
Al Kifaf,
Al Mamzar,
Al Manara,
Al Merkad,
Al Mina,
Al Mizhar First,
Al Mizhar Second,
Al Muraqqabat,
Al Murar,
Al Sabkha,
Al Muteena
Al Nahda First,
Al Nahda Second,
Al Quoz First,
Al Quoz Industrial First,
Al Quoz Industrial Fourth,
Al Quoz Industrial Second,
Al Quoz Industrial Third,
Al Quoz Second,
Al Quoz Third,
Al Qusais First,
Al Qusais Industrial Fifth,
Al Qusais Industrial First,
Al Qusais Industrial Fourth,
Al Qusais Industrial Second,
Al Qusais Industrial Third,
Al Qusais Second,
Al Qusais Third,
Al Raffa,
Al Ras,
Al Rashidiya,
Al Rigga,
Al Safa First,
Al Safa Second,
Al Safouh First,
Al Safouh Second,
Al Satwa,
Al Shindagha,
Al Souq Al Kabeer,
Al Twar First,
Al Twar Second,
Al Twar Third,
Al Warqa'a Fifth,
Al Warqa'a First,
Al Warqa'a Fourth,
Al Warqa'a Second,
Al Warqa'a Third,
Al Wasl,
Al Waheda,
Ayal Nasir,
Aleyas,
Bu Kadra,
Dubai Investment park First,
Dubai Investment Park Second,
Dubai Media City,
Dubai Internet City,
Emirates Hill First,
Emirates Hill Second,
Emirates Hill Third,
Hatta,
Hor Al Anz,
Hor Al Anz East,
Jebel Ali 1,
Jebel Ali 2,
Jebel Ali Industrial,
Jebel Ali Palm,
Jumeira First,
Palm Jumeirah,
Jumeirah Second,
Jumeirah Third,
Jumeirah 1,
Jumeirah 2,
Jumeirah 3,
Jumeirah Park,
Jumeirah Village circle,
Jumeirah Dirstricts,
Arabian Renches,
Motor City,
Silicon Osis,
Jumeirah Beach Residence,
Al Wasl,
Al Safa,
Umm Al Sheif,
Umm Suqiem,
Madinat Jumeirah,
Al Mankhool,
Marsa Dubai,
Meadows,
Mirdif,
Muhaisanah Fourth,
Muhaisanah Second,
Muhaisanah Third,
Muhaisnah First,
Al Mushrif,
Nad Al Hammar,
Nadd Al Shiba Fourth,
Nadd Al Shiba Second,
Nadd Al Shiba Third,
Nad Shamma,
Naif,
Al Muteena First,
Al Muteena Second,
Al Nasr, Dubai,
port Saeed,
Arabian Ranches,
Ras Al Khor,
Ras Al Khor Industrial First,
Ras Al Khor Industrial Second,
Ras Al Khor Industrial Third,
Rigga Al Buteen,
Springs,
Meadows,
Trade Centre 1,
Trade Centre 2,
Umm Al Sheif,
Umm Hurair First,
Umm Hurair Second,
Umm Ramool,
Umm Suqeim First,
Umm Suqeim Second,
Umm Suqeim Third,
Wadi Alamardi,
Warsan First,
Warsan Second,
Za'abeel First,
Za'abeel Second,
Knowledge Village,
Dubai Media City,
Dubai Internet City,
The Greens,
Discovery Gardens,
Green Community,
Jebel Ali Gardens,
Aykon city,
Tcom city,
Downtown Dubai,
Elite Residence,
Dubai Sports City,
Business Bay,
Falcon City,
Jumeirah Village Triangle,
Sheikh Zaid Road,
Polo Homes,
Studio City,
The Garden Dubai,
Dubai Marina,
Mudon villa,
Flamingo Villa,
The Lakes,
Jumeirah Hights,
Jumeirah Islands,
Dubai production city,
Jumeirah Golf Estate,
Mudon,
The Sustainable city,
Layan,
Al Waha,
Dubai lifestyle city,