The shed assembly service you need to get the comfort you deserve
Have you spent the last hour looking for a screwdriver? Dreaming of a place that is off limits to anyone but you? You may not realise it yet, but you're in need of a garden shed. Luckily, Handyman is more than up to the task and can construct one with ease. Plastic, wooden, or metal Shed Installation – the quick and precise specialists will tighten all bolts to their maximum limit to ensure that your new sanctuary can withstand the harsh UAE weather. You can also count on us to provide you with a myriad of other benefits, such as:
Your Shed Installation will be put together by insured pros with many years of experience;
We will collect and deliver all required toolshed materials straight to your home address;
 Handyman can also assemble gym equipment, garden furniture, and more;
You can schedule a session or get free quotes 24 hours a day, 7 days a week;
The handymen can arrive anywhere within the Dubai;
Our services are available for any day of the week, including on bank holidays.
Know the answer before you ask – check out our brief shed construction FAQ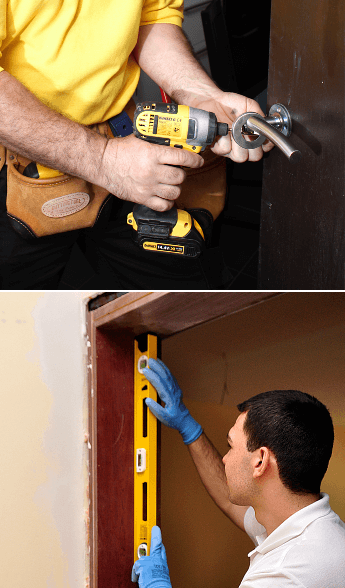 How can I benefit from a professional Shed Installation session?
First things first – you need proper equipment and a mere hammer won't cut it. The experienced handyman, on the other hand, will carry ladders, sawhorses, circular saws, nail guns, drills… In other words, the pro will arrive more than prepared to get your metal Shed Installation project up and running in no time. A trained specialist will also know how to safely handle all power tools involved, as well as take care of the wiring if you decide to outfit your man cave with a large LCD TV or a fancy lighting system. Lastly, all pros are also covered by a £5 million insurance.
The area where I want to place my shed isn't levelled. What now?
The knowledgeable team can lend you a hand with that as well! Let us know the type of Shed Installationyou've chosen – plastic, wooden, or metal – so that the experts can suggest the optimal shed floor construction for your needs. For example, a wooden shed is usually set on treated lumber skids, while metal ones are reinforced with concrete blocks. If the area you've chosen is solid, but uneven, we can place a levelled subframe and build the shed on top. For a little bit extra, the handymen can also deal with leftover rubbish to let you enjoy you shed since day one.
Note: Cement, sand, flagstones, and other building materials will be included in your final price.
How long will my wooden/plastic/metal shed installation session last?
The length of your session will mainly depend on the type of Shed Installation you've chosen to place in your yard. For instance, if your wooden shed construction also comes with an extra storage room, then this will require significantly more planning and nail gun work than a regular shed. Material and size aside, another important factor is the shed's purpose – will it be used for storing tools or for relaxing after a hard day at work? Knowing what your ideas are will help us send the right pros and give you an accurate time estimate for your project.
My old wooden shed construction needs to go. How can I make that happen?
Just give us a call and the professionals will help you dismantle your shed part by part. Sometimes, this process may take up to an hour or two, based on such things as how light the materials are, the complexity of the shed roof construction, and whether the shed has a storage compartment. However, the dexterous pros will always be armed with the right tools and lots of patience to safely disassemble and remove even rusty or rotted sheds. Now, with the old shed removed, the only thing standing between you and your new one is your imagination!
Abu Hail,
Al Awir First,
Al Awir Second,
Al Bada,
Al Baraha,
Al Barsha First,
Al Barsha Second,
Al Barsha South First,
Al Barsha South Second,
Al Barsha South Third,
Al Barsha Third,
Al Buteen,
Al Dhagaya,
Al Furjan,
Al Garhoud,
Al Guoz Fourth,
Al Hamriya, Dubai,
Al Hamriya Port,
Al Hudaiba,
Al Jaddaf,
Al Jafiliya,
Al Karama,
Al Khabisi,
Al Khwaneej First,
Al Khwaneej Second,
Al Kifaf,
Al Mamzar,
Al Manara,
Al Merkad,
Al Mina,
Al Mizhar First,
Al Mizhar Second,
Al Muraqqabat,
Al Murar,
Al Sabkha,
Al Muteena
Al Nahda First,
Al Nahda Second,
Al Quoz First,
Al Quoz Industrial First,
Al Quoz Industrial Fourth,
Al Quoz Industrial Second,
Al Quoz Industrial Third,
Al Quoz Second,
Al Quoz Third,
Al Qusais First,
Al Qusais Industrial Fifth,
Al Qusais Industrial First,
Al Qusais Industrial Fourth,
Al Qusais Industrial Second,
Al Qusais Industrial Third,
Al Qusais Second,
Al Qusais Third,
Al Raffa,
Al Ras,
Al Rashidiya,
Al Rigga,
Al Safa First,
Al Safa Second,
Al Safouh First,
Al Safouh Second,
Al Satwa,
Al Shindagha,
Al Souq Al Kabeer,
Al Twar First,
Al Twar Second,
Al Twar Third,
Al Warqa'a Fifth,
Al Warqa'a First,
Al Warqa'a Fourth,
Al Warqa'a Second,
Al Warqa'a Third,
Al Wasl,
Al Waheda,
Ayal Nasir,
Aleyas,
Bu Kadra,
Dubai Investment park First,
Dubai Investment Park Second,
Dubai Media City,
Dubai Internet City,
Emirates Hill First,
Emirates Hill Second,
Emirates Hill Third,
Hatta,
Hor Al Anz,
Hor Al Anz East,
Jebel Ali 1,
Jebel Ali 2,
Jebel Ali Industrial,
Jebel Ali Palm,
Jumeira First,
Palm Jumeirah,
Jumeirah Second,
Jumeirah Third,
Jumeirah 1,
Jumeirah 2,
Jumeirah 3,
Jumeirah Park,
Jumeirah Village circle,
Jumeirah Dirstricts,
Arabian Renches,
Motor City,
Silicon Osis,
Jumeirah Beach Residence,
Al Wasl,
Al Safa,
Umm Al Sheif,
Umm Suqiem,
Madinat Jumeirah,
Al Mankhool,
Marsa Dubai,
Meadows,
Mirdif,
Muhaisanah Fourth,
Muhaisanah Second,
Muhaisanah Third,
Muhaisnah First,
Al Mushrif,
Nad Al Hammar,
Nadd Al Shiba Fourth,
Nadd Al Shiba Second,
Nadd Al Shiba Third,
Nad Shamma,
Naif,
Al Muteena First,
Al Muteena Second,
Al Nasr, Dubai,
port Saeed,
Arabian Ranches,
Ras Al Khor,
Ras Al Khor Industrial First,
Ras Al Khor Industrial Second,
Ras Al Khor Industrial Third,
Rigga Al Buteen,
Springs,
Meadows,
Trade Centre 1,
Trade Centre 2,
Umm Al Sheif,
Umm Hurair First,
Umm Hurair Second,
Umm Ramool,
Umm Suqeim First,
Umm Suqeim Second,
Umm Suqeim Third,
Wadi Alamardi,
Warsan First,
Warsan Second,
Za'abeel First,
Za'abeel Second,
Knowledge Village,
Dubai Media City,
Dubai Internet City,
The Greens,
Discovery Gardens,
Green Community,
Jebel Ali Gardens,
Aykon city,
Tcom city,
Downtown Dubai,
Elite Residence,
Dubai Sports City,
Business Bay,
Falcon City,
Jumeirah Village Triangle,
Sheikh Zaid Road,
Polo Homes,
Studio City,
The Garden Dubai,
Dubai Marina,
Mudon villa,
Flamingo Villa,
The Lakes,
Jumeirah Hights,
Jumeirah Islands,
Dubai production city,
Jumeirah Golf Estate,
Mudon,
The Sustainable city,
Layan,
Al Waha,
Dubai lifestyle city,