Fitting a Sink Waste Is Easier Than Ever with the Aid of Handyman
Replacing an already existing garbage disposal unit is hard enough, but fitting a new one from scratch requires good plumbing and electrical skills. What is more he electrical supply to the waste disposal unit must be made in accordance with Part P of the building regulations. So, if you need Waste disposal installation, better get a professional on the case. A certified electrician will choose the right components, keep track of all sink connections and drain fittings, and calculate the unit's electricity and water usage. In short, installing a waste disposal unit is best handled by a professional!
With  Handyman, you can quickly forget about your garbage unit woes. The certified and skilled electrician, who will ring your doorbell, will be equipped with a modern garbage disposal installation kit, as well as with reliable electrical connections. His vast expertise will allow him to easily install a food disposal system that will work like a charm every time you switch it on. And if your disposal unit is simply jammed, the professional can readily assist you with competent waste disposal repairs or replacement on the spot.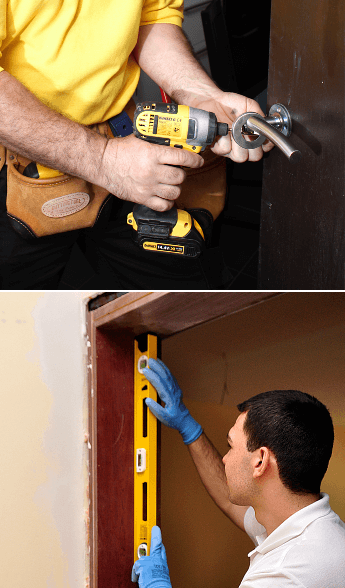 We Will Help You Pick the Right Kitchen Sink Garburator
While installing an insinkerator is not exactly complicated, the professionals will need to know your preferences in order to meet your needs and budget. Here are a couple of things you need to keep in mind:
Cutter quality – Every in-sink garburator contains a stationary cutter and one that rotates when the unit is powered on. For best results, the reliable pros can install a garburator model with cast iron cutters. Those, however, will significantly increase your final garburator cost;
Unit dimensions – Make sure to measure the space under your sink and mention the exact dimensions to the specialists. The team will then look for a garbage disposal unit that will not only easily fit into your shelf, but also leave enough space for storing various cleaning products;
The unit's motor size – You need a powerful (and hence big) motor to get the most out of your disposal unit. Your technicians can happily supply you with a 475 Watt model that will be able to grind through any type of food leftovers.
Noise levels – Disposal units are usually powered by either induction (more efficient, but louder) or permanent magnet (less efficient, but quieter) motors. However, your technicians may recommend getting magnet motors if your pipe work is too long or if it gets clogged a tad too often.
Count on the Professionals for a Proper Disposal Installation
It does not matter if you need a simple kitchen garbage disposal repair or a quick and tidy insinkerator removal and installation service. The precise handyman team has what it takes to safely repair or replace any existing sink garburator, as well as wire the latest available model in your kitchen, all at a fair price. Each pro is committed to quality and will gladly put his knowledge to the test to install a garbage disposal unit that will meet your individual requirements from start to finish. At the end, you will receive a detailed estimate that will list all spendings you made on your fitting sink waste service.
How Will the Handymen Get the Job Done?
When performing waste disposal unit installation, the technicians will:
Turn off the power to remove all drain lines;
Install the new kitchen garburator and its wiring;
Mount the disposal system on its designated spot;
Re-attach the previously removed drain lines.
And when the efficient pros need to replace an insinkerator, they will:
Thoroughly inspect the food waste disposer installation;
Turn off the power to remove all drain lines;
Remove the dishwasher knockout;
Disconnect the old waste king disposal installation unit;
Neatly fit the new sink waste and its wiring;
Mount the disposal unit in its designated spot;
Reconnect the drain lines back to the disposal unit.
Abu Hail,
Al Awir First,
Al Awir Second,
Al Bada,
Al Baraha,
Al Barsha First,
Al Barsha Second,
Al Barsha South First,
Al Barsha South Second,
Al Barsha South Third,
Al Barsha Third,
Al Buteen,
Al Dhagaya,
Al Furjan,
Al Garhoud,
Al Guoz Fourth,
Al Hamriya, Dubai,
Al Hamriya Port,
Al Hudaiba,
Al Jaddaf,
Al Jafiliya,
Al Karama,
Al Khabisi,
Al Khwaneej First,
Al Khwaneej Second,
Al Kifaf,
Al Mamzar,
Al Manara,
Al Merkad,
Al Mina,
Al Mizhar First,
Al Mizhar Second,
Al Muraqqabat,
Al Murar,
Al Sabkha,
Al Muteena
Al Nahda First,
Al Nahda Second,
Al Quoz First,
Al Quoz Industrial First,
Al Quoz Industrial Fourth,
Al Quoz Industrial Second,
Al Quoz Industrial Third,
Al Quoz Second,
Al Quoz Third,
Al Qusais First,
Al Qusais Industrial Fifth,
Al Qusais Industrial First,
Al Qusais Industrial Fourth,
Al Qusais Industrial Second,
Al Qusais Industrial Third,
Al Qusais Second,
Al Qusais Third,
Al Raffa,
Al Ras,
Al Rashidiya,
Al Rigga,
Al Safa First,
Al Safa Second,
Al Safouh First,
Al Safouh Second,
Al Satwa,
Al Shindagha,
Al Souq Al Kabeer,
Al Twar First,
Al Twar Second,
Al Twar Third,
Al Warqa'a Fifth,
Al Warqa'a First,
Al Warqa'a Fourth,
Al Warqa'a Second,
Al Warqa'a Third,
Al Wasl,
Al Waheda,
Ayal Nasir,
Aleyas,
Bu Kadra,
Dubai Investment park First,
Dubai Investment Park Second,
Dubai Media City,
Dubai Internet City,
Emirates Hill First,
Emirates Hill Second,
Emirates Hill Third,
Hatta,
Hor Al Anz,
Hor Al Anz East,
Jebel Ali 1,
Jebel Ali 2,
Jebel Ali Industrial,
Jebel Ali Palm,
Jumeira First,
Palm Jumeirah,
Jumeirah Second,
Jumeirah Third,
Jumeirah 1,
Jumeirah 2,
Jumeirah 3,
Jumeirah Park,
Jumeirah Village circle,
Jumeirah Dirstricts,
Arabian Renches,
Motor City,
Silicon Osis,
Jumeirah Beach Residence,
Al Wasl,
Al Safa,
Umm Al Sheif,
Umm Suqiem,
Madinat Jumeirah,
Al Mankhool,
Marsa Dubai,
Meadows,
Mirdif,
Muhaisanah Fourth,
Muhaisanah Second,
Muhaisanah Third,
Muhaisnah First,
Al Mushrif,
Nad Al Hammar,
Nadd Al Shiba Fourth,
Nadd Al Shiba Second,
Nadd Al Shiba Third,
Nad Shamma,
Naif,
Al Muteena First,
Al Muteena Second,
Al Nasr, Dubai,
port Saeed,
Arabian Ranches,
Ras Al Khor,
Ras Al Khor Industrial First,
Ras Al Khor Industrial Second,
Ras Al Khor Industrial Third,
Rigga Al Buteen,
Springs,
Meadows,
Trade Centre 1,
Trade Centre 2,
Umm Al Sheif,
Umm Hurair First,
Umm Hurair Second,
Umm Ramool,
Umm Suqeim First,
Umm Suqeim Second,
Umm Suqeim Third,
Wadi Alamardi,
Warsan First,
Warsan Second,
Za'abeel First,
Za'abeel Second,
Knowledge Village,
Dubai Media City,
Dubai Internet City,
The Greens,
Discovery Gardens,
Green Community,
Jebel Ali Gardens,
Aykon city,
Tcom city,
Downtown Dubai,
Elite Residence,
Dubai Sports City,
Business Bay,
Falcon City,
Jumeirah Village Triangle,
Sheikh Zaid Road,
Polo Homes,
Studio City,
The Garden Dubai,
Dubai Marina,
Mudon villa,
Flamingo Villa,
The Lakes,
Jumeirah Hights,
Jumeirah Islands,
Dubai production city,
Jumeirah Golf Estate,
Mudon,
The Sustainable city,
Layan,
Al Waha,
Dubai lifestyle city,