Fix your wooden windows & improve your home's energy efficiency
Winter is coming… and so are freezing temperatures. Now would be a good time to check your windows – if the wooden surfaces are cracked or warped, you'll definitely want to do something about Wooden Window Repairs. Get in touch with  Handyman to get expert wooden window sill replacement before the chilly weather strikes and maintain your property's charming façade. Replacing a damaged wooden window sill or frame will also lead to better insulation and, consequently, better energy efficiency for your home. And here's a few benefits to get you started:
Hire skilled handymen who will offer you the best solution for your current needs;
Mask scratches, cracks, and other unsightly marks on your windows' wooden surface;
Replace wooden window sills, frames, and any other damaged window parts;
Book a session for any workday, weekend, or bank holiday regardless of weather;
Get efficient window repairs in any district within Dubai;
Benefit from extra tasks, such window painting, refinishing, and more.
Revive wooden window frames and sills of any kind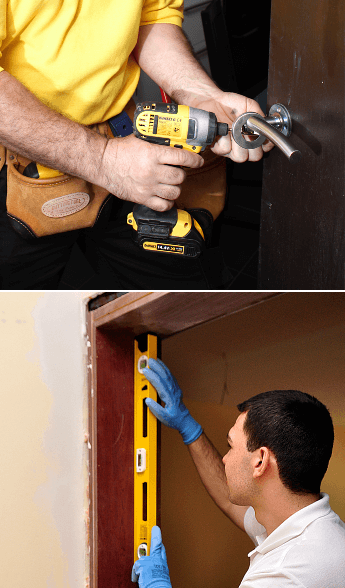 What goes into the actual repair of Wooden Window Repairs?
The professional can fix virtually any window element, be it Wooden Window Repairs, sills, or something else. Regardless of the task, the diligent handyman will follow a series of steps to deliver satisfying results at the drop of a hat. As soon as the pro arrives on site, he will:
Remove any dust and rot from the wooden surfaces.
Treat the affected area with professional wood filler.
Replace damaged wooden window sill or frame sections (if necessary).
Leave the working area spotless and collect all leftover timber.
Have rotten Wooden Window Repairs? Consider them fixed
It does not matter if you have wooden sills of yore or ones that are a mere decade old. Aged or not, the seasoned experts have mastered a variety of restoration techniques to safely bring your windows to their former glory, while leaving their unique style completely untouched. Besides repairing rotten wooden window frames or sills, the specialists can also add several coats of oil or paint your wooden textures in bright, inviting colours, changing the entire look and feel of your home. Once the job is done, the neighbouring homes won't hold a candle to yours!
Old wooden window frames – modern restoration approach
The trained professionals will carry all equipment needed to repair your wooden window frames or sills from start to finish. For instance, the practiced handyman can carry anything from chisels, filler knifes, and wood fillers, to ladders, various grades of sandpaper, and primer, undercoat, or topcoat paints straight to your home. And with these tools in hand, the specialists will have no trouble fixing or replacing even the most weathered window segment fast and without making a ruckus – something that your neighbours will surely appreciate.
Repair internal & external wooden window sills anyday, anytime
There's no need to switch to uPVC just yet. You can schedule a wood window frame repair session or receive a free quote as soon as you need one – our online booking form, instant website chat, and phone lines are readily at your disposal 24 hours a day, 7 days a week. Simply tell us the type of windows you have, whether they're internal or external, and how high they're located. Once our knowledgeable advisers review your information, they will gladly send a team over to deny winter a chance to ever sneak into your home!
Abu Hail,
Al Awir First,
Al Awir Second,
Al Bada,
Al Baraha,
Al Barsha First,
Al Barsha Second,
Al Barsha South First,
Al Barsha South Second,
Al Barsha South Third,
Al Barsha Third,
Al Buteen,
Al Dhagaya,
Al Furjan,
Al Garhoud,
Al Guoz Fourth,
Al Hamriya, Dubai,
Al Hamriya Port,
Al Hudaiba,
Al Jaddaf,
Al Jafiliya,
Al Karama,
Al Khabisi,
Al Khwaneej First,
Al Khwaneej Second,
Al Kifaf,
Al Mamzar,
Al Manara,
Al Merkad,
Al Mina,
Al Mizhar First,
Al Mizhar Second,
Al Muraqqabat,
Al Murar,
Al Sabkha,
Al Muteena
Al Nahda First,
Al Nahda Second,
Al Quoz First,
Al Quoz Industrial First,
Al Quoz Industrial Fourth,
Al Quoz Industrial Second,
Al Quoz Industrial Third,
Al Quoz Second,
Al Quoz Third,
Al Qusais First,
Al Qusais Industrial Fifth,
Al Qusais Industrial First,
Al Qusais Industrial Fourth,
Al Qusais Industrial Second,
Al Qusais Industrial Third,
Al Qusais Second,
Al Qusais Third,
Al Raffa,
Al Ras,
Al Rashidiya,
Al Rigga,
Al Safa First,
Al Safa Second,
Al Safouh First,
Al Safouh Second,
Al Satwa,
Al Shindagha,
Al Souq Al Kabeer,
Al Twar First,
Al Twar Second,
Al Twar Third,
Al Warqa'a Fifth,
Al Warqa'a First,
Al Warqa'a Fourth,
Al Warqa'a Second,
Al Warqa'a Third,
Al Wasl,
Al Waheda,
Ayal Nasir,
Aleyas,
Bu Kadra,
Dubai Investment park First,
Dubai Investment Park Second,
Dubai Media City,
Dubai Internet City,
Emirates Hill First,
Emirates Hill Second,
Emirates Hill Third,
Hatta,
Hor Al Anz,
Hor Al Anz East,
Jebel Ali 1,
Jebel Ali 2,
Jebel Ali Industrial,
Jebel Ali Palm,
Jumeira First,
Palm Jumeirah,
Jumeirah Second,
Jumeirah Third,
Jumeirah 1,
Jumeirah 2,
Jumeirah 3,
Jumeirah Park,
Jumeirah Village circle,
Jumeirah Dirstricts,
Arabian Renches,
Motor City,
Silicon Osis,
Jumeirah Beach Residence,
Al Wasl,
Al Safa,
Umm Al Sheif,
Umm Suqiem,
Madinat Jumeirah,
Al Mankhool,
Marsa Dubai,
Meadows,
Mirdif,
Muhaisanah Fourth,
Muhaisanah Second,
Muhaisanah Third,
Muhaisnah First,
Al Mushrif,
Nad Al Hammar,
Nadd Al Shiba Fourth,
Nadd Al Shiba Second,
Nadd Al Shiba Third,
Nad Shamma,
Naif,
Al Muteena First,
Al Muteena Second,
Al Nasr, Dubai,
port Saeed,
Arabian Ranches,
Ras Al Khor,
Ras Al Khor Industrial First,
Ras Al Khor Industrial Second,
Ras Al Khor Industrial Third,
Rigga Al Buteen,
Springs,
Meadows,
Trade Centre 1,
Trade Centre 2,
Umm Al Sheif,
Umm Hurair First,
Umm Hurair Second,
Umm Ramool,
Umm Suqeim First,
Umm Suqeim Second,
Umm Suqeim Third,
Wadi Alamardi,
Warsan First,
Warsan Second,
Za'abeel First,
Za'abeel Second,
Knowledge Village,
Dubai Media City,
Dubai Internet City,
The Greens,
Discovery Gardens,
Green Community,
Jebel Ali Gardens,
Aykon city,
Tcom city,
Downtown Dubai,
Elite Residence,
Dubai Sports City,
Business Bay,
Falcon City,
Jumeirah Village Triangle,
Sheikh Zaid Road,
Polo Homes,
Studio City,
The Garden Dubai,
Dubai Marina,
Mudon villa,
Flamingo Villa,
The Lakes,
Jumeirah Hights,
Jumeirah Islands,
Dubai production city,
Jumeirah Golf Estate,
Mudon,
The Sustainable city,
Layan,
Al Waha,
Dubai lifestyle city,