BATHROOM INSTALLATION AND REPAIR DUBAI
THE RELIABLE BATHROOM INSTALLATION YOU'VE BEEN WAITING FOR
MAKE YOUR DESIGN A REALITY WITH BATHROOM REFURBISHMENT IN DUBAI
If our homes are our castles, then our bathrooms are our throne rooms. Each day these private and relaxing retreats give us enough energy to tackle the tasks ahead.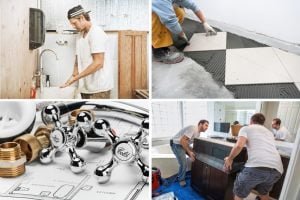 This is why your brand new bathroom needs to be absolutely impeccable. And the dedicated bathroom fitters at HandymanDXB will be more than happy to bring your ideas to life. Take a look what we can do for you:
Perform tiling, plastering, and various plumbing jobs;
Use modern gear and quality materials for lasting results;
Fitting baths, showers, sinks, and other bathroom furniture;
Install brand new lighting to match your bath's aesthetics;
Carry out the tasks on a suitable day (bank holidays included);
Create a new bathroom design in line with your instructions.
LET'S TAKE A LOOK AT WHAT GOES INTO BATHROOM FITTING

ENJOY PROFESSIONAL WIRING AND REWIRING
Bathroom wiring is a delicate process that should only be handled by certified specialists. Technicians such as the pros at HandymanDXB, who will have no trouble installing various types of bathroom lighting to help you strike that delicate balance between aesthetics and utility. The experienced handymen will also take your barren room and turn it into a luxurious palace by furnishing the place with bathtubs, electric showers, washbasins, shelves, toilets, and other accessories. And if everything is good to go except those pesky cables, the team will use the appropriate tools to provide you with professional rewiring.
TAKE YOUR BATHROOM FITTING TO THE NEXT LEVEL
Good up-to-date bathrooms are instantly recognized by the quality materials that usually back them up. The knowledgeable Fantastic bathroom fitters will use durable grouts, silicone sealants, floor tiles, and copper piping to ensure that your small water kingdom stands the test of time. By fusing old-school skills with modern technology, the pros are more than capable of delivering top-notch plumbing, tiling, electrical, light building, and decorating services at any time and any place you need. Just choose a design, say the word, and the Dubai bathroom refurbishers will adhere to a strict code of practice to deliver satisfying and long-lasting results.