Showcase Your Unique Style With a Classy Blinds Fitting Service in Dubai
Customize every aspect of your windows with seasoned blind installers and Curtains Fixing Dubai
Curtains Fixing Dubai is certainly not the toughest job on the planet. However, with years of experience on the market,  Handyman DXB knows how to pick just the right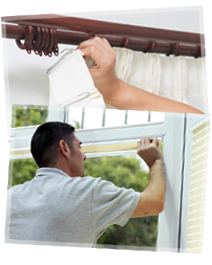 type of window accessory that will go hand in glove with your home's aesthetic design. Besides providing a quality curtain fitting service, the skilled specialists can also help you out with a wide selection of odd jobs, such as unclogging your bathroom sinks, installing a brand new wall paneling in your living room, or fixing problematic leaks in your roof. Here's what else you can expect from this service:
All of the required equipment and tools are provided as part of the service;
Additional materials can be purchased and delivered to your place;
A convenient, flexible, and time-saving service;
Detailed, fair pricing policy.
The reliable and efficient window treatment installation has arrived

Affordable prices with no strings attached
Whether the experts need to mount your bathroom shutter blinds back or their task involves hanging curtains from your ceiling, your final price will always be estimated based on hours worked. And there won't be any veiled extra fees or mandatory deposits for you to worry about. Keep in mind, however, that you can hire the experts for a minimum time period of 1 hour, after which charges apply every 30 min. You pay upon job completion, for the actual time the job took. Perfect Curtains Fixing in Dubai.
What the blind installers can do for you
Our comprehensive curtain fitting will cover everything you need:
Curtain rail fitting – No matter how formal or exotic you wish your windows to look, the specialists will provide you with a wide selection of curtain rails so you can customize your living room or bedroom to your heart's content. Wood, glass, eyelet, or stainless steel – the precise and swift professionals know how to meet all your curtain track fitting demands with style;
Blind hanging – Just ask and the team will readily assist you with professional vertical, roller, wood, Venetian, and Roman blinds installation. And if you are clueless on which ones to pick, the experts can help you choose and hang blinds that will best suit your room's style and location, for example, stylish blackout blinds that could withstand direct sunlight without warping. Best Curtains Fixing Dubai;
Curtain fitting – Have you just given your kitchen curtains a spin in your washing machine and need someone to mount them back on without any wrinkles? Or do you wish to replace those with something better? The diligent handymen have lots of experience with vertical, goblet, conservatory, velvet, and other curtains types and will hang (or remove) those without delay!
Great workmanship, complete peace of mind
After working on countless home renovation projects for years on end, the polite and knowledgeable specialists have the know-how to help you with anything from mounting curtain fittings and performing blind fixings to fitting a brand new cellular shade installation or a cable curtain rod system. Regardless of the task at hand, the team know how to place your window accessories in the most efficient (and jaw-dropping) way possible
Customization online appointments
There is absolutely no strain involved in booking your professional blind installation. All you have to do is fire up your favorite browser and either write to us on our real-time chat or submit a short contact form. Of course, you can also get in touch via an "old-fashioned" call on 0565787597. Our outgoing and helpful representatives man the lines 24/7 (including on bank holidays) and will happily help you make an appointment for an hour and day of your preference.
Your Curtains Fixing Dubai has everything covered
You don't have to shop for supplies – the handymen will bring their own screwdrivers and drills to do their job quickly and without making a mess. Their heavy toolboxes also contain all the curtain hooks, poles, rings, brackets, gliders, treenails, nuts, and bolts needed to provide an efficient, say, curtain rod or Levolor blinds installation service. And if your window covering installation project requires some extra materials, the pros will gladly order them for you and we will reflect the added costs in your final bill.
Abu Hail,
Al Awir First,
Al Awir Second,
Al Bada,
Al Baraha,
Al Barsha First,
Al Barsha Second,
Al Barsha South First,
Al Barsha South Second,
Al Barsha South Third,
Al Barsha Third,
Al Buteen,
Al Dhagaya,
Al Furjan,
Al Garhoud,
Al Guoz Fourth,
Al Hamriya, Dubai,
Al Hamriya Port,
Al Hudaiba,
Al Jaddaf,
Al Jafiliya,
Al Karama,
Al Khabisi,
Al Khwaneej First,
Al Khwaneej Second,
Al Kifaf,
Al Mamzar,
Al Manara,
Al Merkad,
Al Mina,
Al Mizhar First,
Al Mizhar Second,
Al Muraqqabat,
Al Murar,
Al Sabkha,
Al Muteena
Al Nahda First,
Al Nahda Second,
Al Quoz First,
Al Quoz Industrial First,
Al Quoz Industrial Fourth,
Al Quoz Industrial Second,
Al Quoz Industrial Third,
Al Quoz Second,
Al Quoz Third,
Al Qusais First,
Al Qusais Industrial Fifth,
Al Qusais Industrial First,
Al Qusais Industrial Fourth,
Al Qusais Industrial Second,
Al Qusais Industrial Third,
Al Qusais Second,
Al Qusais Third,
Al Raffa,
Al Ras,
Al Rashidiya,
Al Rigga,
Al Safa First,
Al Safa Second,
Al Safouh First,
Al Safouh Second,
Al Satwa,
Al Shindagha,
Al Souq Al Kabeer,
Al Twar First,
Al Twar Second,
Al Twar Third,
Al Warqa'a Fifth,
Al Warqa'a First,
Al Warqa'a Fourth,
Al Warqa'a Second,
Al Warqa'a Third,
Al Wasl,
Al Waheda,
Ayal Nasir,
Aleyas,
Bu Kadra,
Dubai Investment park First,
Dubai Investment Park Second,
Dubai Media City,
Dubai Internet City,
Emirates Hill First,
Emirates Hill Second,
Emirates Hill Third,
Hatta,
Hor Al Anz,
Hor Al Anz East,
Jebel Ali 1,
Jebel Ali 2,
Jebel Ali Industrial,
Jebel Ali Palm,
Jumeira First,
Palm Jumeirah,
Jumeirah Second,
Jumeirah Third,
Jumeirah 1,
Jumeirah 2,
Jumeirah 3,
Jumeirah Park,
Jumeirah Village circle,
Jumeirah Dirstricts,
Arabian Renches,
Motor City,
Silicon Osis,
Jumeirah Beach Residence,
Al Wasl,
Al Safa,
Umm Al Sheif,
Umm Suqiem,
Madinat Jumeirah,
Al Mankhool,
Marsa Dubai,
Meadows,
Mirdif,
Muhaisanah Fourth,
Muhaisanah Second,
Muhaisanah Third,
Muhaisnah First,
Al Mushrif,
Nad Al Hammar,
Nadd Al Shiba Fourth,
Nadd Al Shiba Second,
Nadd Al Shiba Third,
Nad Shamma,
Naif,
Al Muteena First,
Al Muteena Second,
Al Nasr, Dubai,
port Saeed,
Arabian Ranches,
Ras Al Khor,
Ras Al Khor Industrial First,
Ras Al Khor Industrial Second,
Ras Al Khor Industrial Third,
Rigga Al Buteen,
Springs,
Meadows,
Trade Centre 1,
Trade Centre 2,
Umm Al Sheif,
Umm Hurair First,
Umm Hurair Second,
Umm Ramool,
Umm Suqeim First,
Umm Suqeim Second,
Umm Suqeim Third,
Wadi Alamardi,
Warsan First,
Warsan Second,
Za'abeel First,
Za'abeel Second,
Knowledge Village,
Dubai Media City,
Dubai Internet City,
The Greens,
Discovery Gardens,
Green Community,
Jebel Ali Gardens,
Aykon city,
Tcom city,
Downtown Dubai,
Elite Residence,
Dubai Sports City,
Business Bay,
Falcon City,
Jumeirah Village Triangle,
Sheikh Zaid Road,
Polo Homes,
Studio City,
The Garden Dubai,
Dubai Marina,
Mudon villa,
Flamingo Villa,
The Lakes,
Jumeirah Hights,
Jumeirah Islands,
Dubai production city,
Jumeirah Golf Estate,
Mudon,
The Sustainable city,
Layan,
Al Waha,
Dubai lifestyle city,