The quickest and easiest way to enjoy a brand new kitchen
When the doors of your kitchen cabinets fall off their hinges, when not a single appliance seems to work as intended, when your sinks are constantly clogged, and when the cheerful colours of your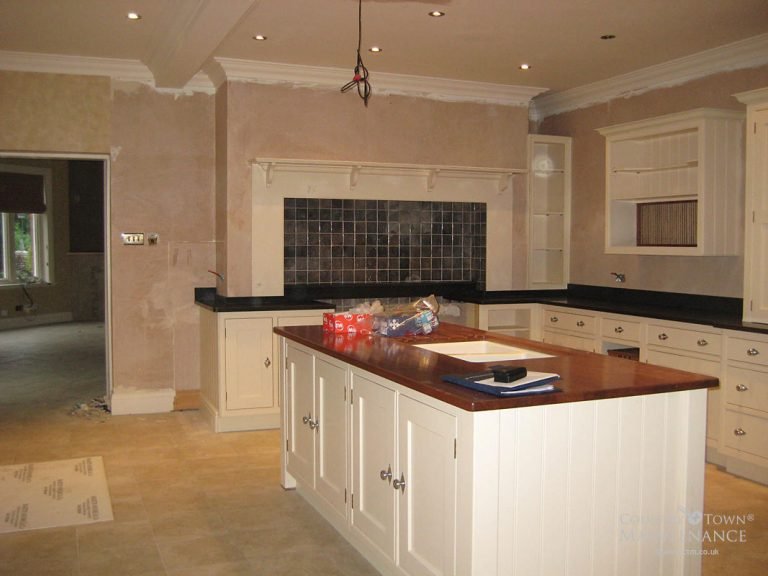 walls have long since faded… you know it's time for an upgrade. Okay, we kind of went too far there, sorry. But regardless if you're looking for a simple worktop or kitchen refurbishment or need a comprehensive kitchen restoration,  Handyman will always be nearby to take care of everything. And here are some of the advantages that come with our services:
Get to know our service better by checking the short FAQ list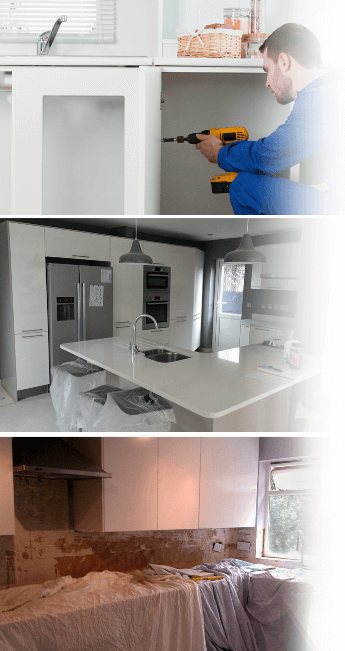 Q: What preparations do I need to make for my kitchen renovation?
A: Start by removing all your personal belongings from the cookery. If you're experiencing difficulties moving certain furniture, you can freely leave it as it is – the handymen will cover the entire kitchen in protective sheets as a safeguard against dust and spills.
Q: What the pros can help you with
A: No job is to big or too small:
Installing new sinks and faucets;
Fitting various kitchen appliances at optimal spots;
Mounting new backsplashes and light fixtures;
Designing and installing countertops;
Refurbishing kitchen cabinets;
Replacing kitchen doors and fitting door hardware;
Priming walls and applying a final coat of paint;
Performing various plumbing & demolition tasks;
Doing sub floor preparation and flooring installation;
Selecting, ordering, and delivering all required materials to your doorstep;
Refreshing the look of any old kitchen furniture.
Q: Can my handyman help me choose the right materials?
A: Certainly! Just ask your professional and he will supply you with ample information regarding the quality and durability of each and every material you have chosen. This will help you make the optimal choice for your kitchen installation project and get the best value for your money.
Q: How much will my kitchen refurbishment cost?
A: All renovation costs for your bespoke kitchen will be listed in a detailed estimate. In order to better satisfy your needs, we will first send a skilled professional to make a viewing and prepare a price quote based on your individual project. This assessment will include the approximate price for all materials and installation tasks, as well as a complete rundown of the handyman services labour costs.
Abu Hail,
Al Awir First,
Al Awir Second,
Al Bada,
Al Baraha,
Al Barsha First,
Al Barsha Second,
Al Barsha South First,
Al Barsha South Second,
Al Barsha South Third,
Al Barsha Third,
Al Buteen,
Al Dhagaya,
Al Furjan,
Al Garhoud,
Al Guoz Fourth,
Al Hamriya, Dubai,
Al Hamriya Port,
Al Hudaiba,
Al Jaddaf,
Al Jafiliya,
Al Karama,
Al Khabisi,
Al Khwaneej First,
Al Khwaneej Second,
Al Kifaf,
Al Mamzar,
Al Manara,
Al Merkad,
Al Mina,
Al Mizhar First,
Al Mizhar Second,
Al Muraqqabat,
Al Murar,
Al Sabkha,
Al Muteena
Al Nahda First,
Al Nahda Second,
Al Quoz First,
Al Quoz Industrial First,
Al Quoz Industrial Fourth,
Al Quoz Industrial Second,
Al Quoz Industrial Third,
Al Quoz Second,
Al Quoz Third,
Al Qusais First,
Al Qusais Industrial Fifth,
Al Qusais Industrial First,
Al Qusais Industrial Fourth,
Al Qusais Industrial Second,
Al Qusais Industrial Third,
Al Qusais Second,
Al Qusais Third,
Al Raffa,
Al Ras,
Al Rashidiya,
Al Rigga,
Al Safa First,
Al Safa Second,
Al Safouh First,
Al Safouh Second,
Al Satwa,
Al Shindagha,
Al Souq Al Kabeer,
Al Twar First,
Al Twar Second,
Al Twar Third,
Al Warqa'a Fifth,
Al Warqa'a First,
Al Warqa'a Fourth,
Al Warqa'a Second,
Al Warqa'a Third,
Al Wasl,
Al Waheda,
Ayal Nasir,
Aleyas,
Bu Kadra,
Dubai Investment park First,
Dubai Investment Park Second,
Dubai Media City,
Dubai Internet City,
Emirates Hill First,
Emirates Hill Second,
Emirates Hill Third,
Hatta,
Hor Al Anz,
Hor Al Anz East,
Jebel Ali 1,
Jebel Ali 2,
Jebel Ali Industrial,
Jebel Ali Palm,
Jumeira First,
Palm Jumeirah,
Jumeirah Second,
Jumeirah Third,
Jumeirah 1,
Jumeirah 2,
Jumeirah 3,
Jumeirah Park,
Jumeirah Village circle,
Jumeirah Dirstricts,
Arabian Renches,
Motor City,
Silicon Osis,
Jumeirah Beach Residence,
Al Wasl,
Al Safa,
Umm Al Sheif,
Umm Suqiem,
Madinat Jumeirah,
Al Mankhool,
Marsa Dubai,
Meadows,
Mirdif,
Muhaisanah Fourth,
Muhaisanah Second,
Muhaisanah Third,
Muhaisnah First,
Al Mushrif,
Nad Al Hammar,
Nadd Al Shiba Fourth,
Nadd Al Shiba Second,
Nadd Al Shiba Third,
Nad Shamma,
Naif,
Al Muteena First,
Al Muteena Second,
Al Nasr, Dubai,
port Saeed,
Arabian Ranches,
Ras Al Khor,
Ras Al Khor Industrial First,
Ras Al Khor Industrial Second,
Ras Al Khor Industrial Third,
Rigga Al Buteen,
Springs,
Meadows,
Trade Centre 1,
Trade Centre 2,
Umm Al Sheif,
Umm Hurair First,
Umm Hurair Second,
Umm Ramool,
Umm Suqeim First,
Umm Suqeim Second,
Umm Suqeim Third,
Wadi Alamardi,
Warsan First,
Warsan Second,
Za'abeel First,
Za'abeel Second,
Knowledge Village,
Dubai Media City,
Dubai Internet City,
The Greens,
Discovery Gardens,
Green Community,
Jebel Ali Gardens,
Aykon city,
Tcom city,
Downtown Dubai,
Elite Residence,
Dubai Sports City,
Business Bay,
Falcon City,
Jumeirah Village Triangle,
Sheikh Zaid Road,
Polo Homes,
Studio City,
The Garden Dubai,
Dubai Marina,
Mudon villa,
Flamingo Villa,
The Lakes,
Jumeirah Hights,
Jumeirah Islands,
Dubai production city,
Jumeirah Golf Estate,
Mudon,
The Sustainable city,
Layan,
Al Waha,
Dubai lifestyle city,